Know Your Neighbor: Emily Garnett, Attorney/Breast Cancer Support Advocate, Mt. Kisco
We are part of The Trust Project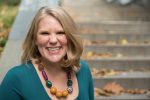 Emily Garnett looked forward to joining several thousand participants at FDR Park in Yorktown last Sunday for her first Support-A-Walk.
She assembled a team of about 50 people to make the three-mile trek around the park to help raise funds for Support Connection, a nonprofit organization which provides support services to women with breast and ovarian cancer.
Before last November, Garnett had never heard of Support Connection. Today, no one is a bigger supporter.
It has been nearly a year since the 33-year-old Garnett, an elder care attorney, was diagnosed with metastatic breast cancer. The shocking discovery had come right after she and her husband Christian and their now three-year-old son Felix had moved into their Mount Kisco house following relocation from the city.
Garnett has been used to researching topics for clients and put that skill to good use when she needed it most.
"I was like I need to talk to someone and try and figure out what the resources are around here, what we can do, what they can do for my family at Support Connection and they just welcomed us with open arms," Garnett said.
Starting with the meeting in early December, Garnett has attended all but one of the organization's monthly breast, ovarian and gynecological support group gatherings at Northern Westchester Hospital's Chappaqua Crossing location.
Garnett said it has been critical for her to go to a place where she doesn't have to be strong for her family and have the support of others who are going through a similar experience.
"I started going right away because it's really important to have a community you can depend on that's not your partner because your partner is also traumatized and I really needed a place where I could be really frightened," Garnett said. "We go down the scariest rabbit hole and I can be there by myself but not be alone."
Being frightened is easy to understand, particularly when Garnett's diagnosis came seemingly out of nowhere. Last fall, she had no symptoms and went to her primary physician for a routine visit. The doctor found what he believed was a lump and sent her for imaging, which confirmed his suspicion.
She went for a second opinion at Memorial Sloan Kettering and doctors there found Garnett had metastatic breast cancer, having entered her bones.
"It is the single scariest thing you can imagine other than someone telling you your child had died," Garnett said. "It was frightening in that vein. I'm not saying it's comparable but imagine getting that kind of news. It's shocking beyond belief."
She started treatment in December, undergoing hormone therapy and targeted therapy. Doctors put Garnett's body into menopause and she underwent a hysterectomy to remove any chance of estrogen being produced.
The targeted therapy was taking a drug call CDK4/6, an inhibitor for the treatment of breast cancer. Garnett takes one pill each morning for three weeks, before taking a week off.
She has some occasional fatigue and pain in her joints but not enough to prevent her from keeping up with her son. It was recommended for Garnett to put her son in preschool so she could go to her appointments and give herself extra time to rest.
While her prognosis is unclear at this point – there is a wide range of outcomes for metastatic breast cancer with the median survival rate at four years – Garnett has had some encouraging news following her fourth scan.
"It was stable but a little bit better than stable, showing decreased tumor involvement," Garnett said. "So that's great, that's what we want to hear."
After having her life turned upside down, Garnett's mission, aside from tending to her health and her son, is to work toward increasing funding for metastatic breast cancer. It is one of the least funded types of cancer research with an estimated 2 to 5 percent of cancer research funding being used for that purpose.
Having become heavily involved in Support Connection and Sunday's walk has served Garnett extremely well.
"I just absolutely love the community up here," she said. "The people we have found that have come together for us, both through Support Connection and through the walk and through our involvement in it, I just feel so fulfilled being able to be part of an organization."
To learn more about Support Connection, visit www.supportconnection.org.