Know Your Neighbor: Dave Hoffman, Conference Producer/Musician, Mt. Kisco
We are part of The Trust Project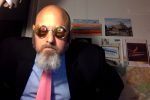 Whenever Dave Hoffman feels like he's in a rut, he has a couple of outlets to regain his spark.
One of them is his music. Last year, Hoffman released his first CD, a five-song collection that he recorded featuring an eclectic mix of rock, rhythm and blues and one of his silly, quirky songs that he enjoys writing under the name Daddy Stingray.
Having written music and played guitar since high school, Hoffman had plenty of material to choose from but he didn't want to go to the trouble and expense of recording without something a little different. That changed when he came up with the idea for Daddy Stingray, a mysterious character he created that comes out of his cave every 15,000 years "to bless mankind with his gift of song."
"I didn't want to move on to the next thing," said Hoffman, 44, a Mount Kisco resident since 2006, who lives with his wife, Alicia, and their two children. "I needed time and then I came up with the idea of the Daddy Stingray persona and that just changed everything for me. It became a huge idea. I love the idea of having my own persona."
His other escape came in 2016, when Hoffman wrote and self-published "Producing Success: A Career Guide for Conference Producers," an outgrowth of his roughly 15-year niche career as a conference producer. A conference producer organizes an agenda, books professional speakers and runs business-to-business conferences in a particular field. Many of his events have catered to the financial industry, but he's also overseen conferences dealing with energy and sustainability and an assortment of other fields.
However, after experiencing stagnation, Hoffman's innate creative streak sought to introduce new ways to do his job.
"So in order to change the calculus of what I was doing, instead of doing the same thing year after year, I decided to write the book," Hoffman said. "This is the first and only book for people who do what I do. I'm very proud of myself and now I'm a writer instead of just a producer, and I realized I could do this, you could be a self-publisher in the 21st century."
He has sold well over 100 copies of the book on six continents. While that may not seem like much, Hoffman said given the relatively small number of people who work as conference producers, he's pleased with the response.
But it is Hoffman's music that he enjoys most. Born in Tarrytown before his family moved to Allendale, N.J. when he was five years old, Hoffman started playing guitar at 14 after he saw one of his peers bring along instrument and a pocket amplifier while on a teen trip. A short time later, Hoffman bought the guitar from him.
For more than 20 years he has performed at clubs in the metropolitan area. He recently completed his first gig as Daddy Stingray when he played at the reception for the Mount Kisco Conservation Advisory Council's nature photography exhibit at the Mount Kisco Public Library.
Hoffman dismisses anyone who might think that his dreams of a musical career is nothing more than a midlife crisis.
"I have all the songs and I couldn't walk away if I wanted to," Hoffman said of his music. "I think the corporate world is very repressive and I think that our society doesn't accept creativity. It's not how the world works. We're all in the suburbs.
"Creativity is really about dipping into your soul and sharing your feelings and things that are repressed and putting them out there."
By next year, Hoffman plans on combining his passion for music with the skills he's acquired as a conference producer. He hopes in 2019 to present a Hudson Valley music summit that would be a business conference for people in the music industry.
Hoffman envisions it as a day-and-a-half event that would help regional musicians get to the next level in their career.
"I'm excited because this is the first time I've had a vision which now is coherent," he said. "Who knows if I can take the Hudson Valley music summit and bring it somewhere else. One might be enough for me to do it full-time."
For more on Hoffman and Daddy Stingray's musical pursuits, visit www.daddystingray.com.