Know Your Neighbor: Dan Welsh, Program Director, Westchester Power
We are part of The Trust Project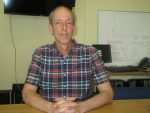 Last year Dan Welsh was faced with a decision that may have been difficult for others to make.
Welsh was working in the tech department for the Harrison School District, content with his job, his hours and benefits.
But having been keenly interested in recycling and environmental issues since college, Welsh, 57, didn't let a special opportunity last summer slip through his fingers. He accepted an offer to become program director of the state's first Community Choice Aggregation, Westchester Power, a program connected with Sustainable Westchester. Its immediate goals are to buy energy in bulk and increase the use of renewables and lower costs for consumers throughout the county.
"This is about the most exciting place I could be right now," Welsh said at Westchester Power's office in Mount Kisco. "I had a choice between staying at a nice civil service job with a retirement building up and (working) 8 to 4 and you're home, or this, a little nonprofit startup, which is amazing and doing groundbreaking things, but who knows where it's going ultimately."
The efforts of forward-thinking leaders have already helped more than 100,000 residents who live in the 20 municipalities that signed up to participate in the initial bulk purchasing effort last year to start saving money.
For Welsh, there's excitement because Westchester Power is at the forefront regionally of not just operating an energy-buying co-op, but to create a longstanding and hopefully permanent renewable energy infrastructure.
"This gives us the heft and the attention-getting ability to now talk to all kinds of people, vendors and consultants, to say how are we going to be able to craft at the top of this program renewable energy right here in our neighborhoods," Welsh said.
One concept that is being developed is community solar, Welsh said. For those residents who have too many trees around their property or a homeowners' association that won't allow solar panels on houses in a development, there may be an appropriate offsite location close by to place them. Then a local co-op can be created and residents in the area can subscribe and share the power that's created, he said.
The concept of having a co-operative arrangement doesn't just have to be limited to the procurement of renewable energy, Welsh said. It can also be applied to other services, including refuse collection, to help reduce costs.
Welsh, who was Westchester-born and raised in Lewisboro where he currently is serving his third term on the town board and one of the few elected officials in New York registered with the Green Party, said 2017 is vitally important for Westchester Power. The two-year agreement for the participating municipalities participating in the bulk energy contract that use Con Edison will be coming due next April. (For NYSEG customers, the contract won't expire until 2019.)
The challenge will be to head back into the communities and renew the contract, educate a wider cross-section of the county and attract others into the program.
"We want to connect with local leaders and libraries and not-for-profit organizations, letting people know how we're doing, that they're in the program and that this contract is coming up, and we expect to mail them a request and get them to sign on to the next round," Welsh said.
A few years ago, working for an organization like Westchester Power wasn't where Welsh envisioned himself, even though he had been involved with Sustainable Westchester and its predecessors.
A SUNY Albany graduate who studied physics and political science and learned Chinese, he was hired by an engineering firm running the company's office in China.
Welsh returned to the United States after 14 years when the company relocated down south and his wife, an acupuncturist, already had launched her business locally. The couple has two children, with one still in college.
He then worked for a magazine publisher in its web department, followed by stints working in IT for the Chappaqua School District and then the Harrison schools.
Welsh said his career switch when the Westchester Power opportunity presented itself was necessary because he needed change.
"That's probably one of the reasons that got me up and out of my chair and got me this job, too," he said. "Just do it, make yourself change and to take on the challenges.
For more information about Westchester Power, visit www.westchesterpower.org.