Know Your Neighbor: Bernard Krooks, Attorney/Special Needs Advocate, Chappaqua
We are part of The Trust Project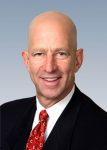 It's not only a job when Bernard Krooks advocates for the developmentally disabled population.
As a founding partner in the White Plains law firm of Littman Krooks, LLC more than 25 years ago, Krooks has developed a highly respected reputation for representing families who require special needs planning or special education advocacy for children along with advising clients on elder law issues.
As far back as junior high school, Krooks said he found himself deeply affected when other students would bully kids with various challenges.
In 1996, his fourth child, Max, was born with development disabilities and what had previously been only part of his professional responsibilities became personal.
"So that sort of motivated me more," said Krooks, 55, a Chappaqua resident since 1993. "Living the life of a parent with a kid I'm able to speak to other parents not only as a lawyer but as a parent who can really empathize with what they're going through and talk them through the various options that are available. So that's given me a lot of satisfaction, the number of people we've been able to help over the years and that's sort of motivated me to keep doing it."
On June 7, Krooks received a special honor not only for his advocacy work for the special needs community as a lawyer but for his years of volunteer service at various organizations, including Arc of Westchester, the largest agency in the county that serves the developmentally and intellectually disabled. He was recognized as the organization's Advocate of the Year, in part for his more than a dozen years as a member of its board of directors and where he currently serves as president.
The ceremony and golf outing at Hampshire Country Club in Mamaroneck benefited Arc of Westchester's Children's School, which helps children up to five years old and with special needs prepare for kindergarten.
Krooks said his work with the Hawthorne-based Arc of Westchester started as he became more involved personally and professionally in various advocacy issues. He was approached to consider lending his time to the organization. He learned more about the agency and reasoned its mission was tremendously worthwhile.
In the time he has served on the board and established his own law practice, laws and policies have improved markedly, yet there is still plenty of room for progress.
"I think we've made great strides, I think we still have a long way to go," Krooks said. "We need to take care of our own and we need to understand that everyone is affected by disabilities. People who wear eyeglasses have a disability, and people with disabilities are people first and we need to continue to work on this."
The focus on providing services for children and teenagers has been one of the areas that has seen the most improvement, making sure that they join their peers in the classroom. However, the system remains woefully inadequate for adults, Krooks said.
"Children and teenagers, we send them to school and that fills the day, but after that we need to do a better job of figuring out what's going to occupy the adults, what's going to give them a sense of fulfillment and opportunities in the workplace," he said.
Coming out of college, Krooks, a Long Island native, didn't want to be a lawyer, but rather an accountant. His father convinced him to try law school so he went to Hofstra School of Law. Krooks had been looking for a career that was meaningful and where he could help people, so he agreed to give the law a chance. He figured that if he didn't like being an attorney he could always go back to being an accountant.
To satisfy his interest in accounting, Krooks also earned his CPA at NYU.
Starting in 1985, Krooks worked on tax and estate planning, before co-founding his own practice five years later. In addition to continuing with estate work, he slowly started to move his area of interest more toward elder care, special needs planning and special education advocacy.
He said his early legal work and his background as a CPA helps him immensely.
"That's important because a lot of the issues that we deal with our clients have tax ramifications, so I'm able to help them with that as well," Krooks said.
Even after his board presidency ends, Krooks said he will continue to assist Arc of Westchester any way he can.
"This is an organization that is very worthy and deserving of my time," he said.