Knickerbocker Elected New Mayor in Buchanan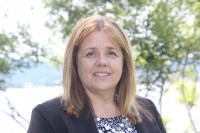 Theresa Knickerbocker became only the second woman in the history of the Village of Buchanan to be elected mayor last night by defeating former Mayor Alfred Donahue.
Knickerbocker, 57, running on the Democratic and Residents Party lines, received 324 votes, while Donahue, 78, who ran with Republican and Village Justice line backing, picked up 187 votes.
In the race for two trustee seats, Nicolas Zachary and Richard Funchion, running with Knickerbocker, earned their third two-year terms with 333 and 321 votes respectively. Former Trustee Brian Smith, Donahue's lone trustee running mate, received 152 votes.
Village Justice Jennifer Daly, who has served in Buchanan since 1999, was cross endorsed and ran unopposed.