Kerry Kennedy Lawyers to File Motion to Dismiss DWI Charge
We are part of The Trust Project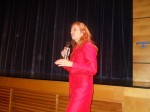 A motion to request the dismissal of Kerry Kennedy's DWI charge will be filed by March 1 following her appearance late Tuesday afternoon in North Castle Town Court.
Kennedy, who was arrested July 13 following an accident on I-684, appeared with her attorneys Gerald Lefcourt and William Aronwald in front of Town Justice Elyse Lazansky. Neither Kennedy nor her attorneys elaborated during the brief court visit, which lasted under a minute, or outside the courthouse. She was rushed into her white Lexus in the parking lot after exiting the courtroom.
Lazansky told Kennedy's attorneys they have a March 1 deadline to file their motion. The prosecution's response is due by March 26, she said. The judge said she intends to rule on the motion on May 7, the next time Kennedy is due in court.
Kennedy struck a tractor-trailer on southbound I-684 before taking Exit 3 in Armonk on the morning of her accident. She was arrested by a North Castle police officer shortly after her car became inoperable on Route 22.
During a court appearance the week following the accident, Kennedy pleaded not guilty to the charge. In a statement she read afterward, she said believed that she had mistakenly taken Ambien, a sleeping pill, before leaving her house instead of her thyroid medication.
Tests later determined there was no alcohol in her system but there was a trace of a sleeping aid found.