Katz, Unite New Castle on Way to Victory in Town Election
We are part of The Trust Project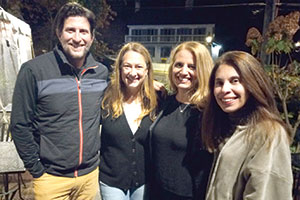 The Unite New Castle ticket led by two-term Councilwoman Lisa Katz appeared headed for victory late Tuesday night over the Democratic-endorsed candidates in what many residents believed was a referendum on the controversial Form-Based Code.
Appearing only on the single independent line, each of the four Unite New Castle candidates on the ballot – Katz for supervisor, Tara Kassal and Andrea Sanseverino Galan for the two four-year council seats and Victoria Tipp for the unexpired Town Board seat – were leading with all 16 districts reporting.
Katz led Holly McCall 2,254-2,057, according to unofficial tallies from the Board of Elections. Kassal and Sanseverino Galan had collected 2,199 and 2,130 votes, respectively. Democrat Lori Morton was in third place, 17 votes behind Sanseverino Galan, although the Unite New Castle camp questioned an unusually low vote total for their candidate in one district. Democrat Michael Weinberg received 2,056 votes.
In late summer Sanseverino Galan announced that if victorious she would not serve because she is moving out of town. If Sanseverino Galan holds on and Unite New Castle takes the board majority, Katz said they would appoint Chappaqua resident Chris Hildenbrand, who campaigned with the ticket, to the vacant seat in January.
Tipp, an 11-year Chappaqua Board of Education member, was ahead of her opponent, Jennifer Bounds, 2,213-2,043.
"I would want to thank all the voters for coming out tonight because I think it's so important," said Katz who stopped short of declaring victory just before 11 p.m. "Our vote is our voice and I think the voters are speaking loud and clear, so I am cautiously optimistic that they have spoken in our favor."
Katz would take over as supervisor as soon as the results are certified by the Board of Elections as a result of the resignation of former supervisor Ivy Pool in June.
McCall, at a subdued Democratic headquarters, said that she and her ticket were unable to overcome the negative messaging and scare tactics that their opponents had generated regarding the Form-Based Code, a proposed zoning tool that has been hotly debated at Town Board meetings for more than a year.
Many opponents of the Form-Based Code had argued it would lead to overdevelopment, the construction of large buildings and flood the school system with more, ruining the character of the downtown Chappaqua, while supporters viewed it as the best way to add vibrancy to the hamlet while diversifying the town's housing stock.
"I think that they were responding to fear," McCall said of the voters, "and I think that some of the tactics that were employed by the Republican Party, which was pretty transparently out there, were pretty powerful and engaged some voters that may have been inclined to not necessarily engage in this election or would have normally supported the Democrats."
Katz said that that she and her running mates hadn't scared voters but informed them of the pros and cons of the Form-Based Code.
"I think we educated voters, and I think what you look at what a Form-Based Code is and really educate voters on all its potential implications, good and bad, I think they made the decision for themselves," she said.
Kassal said a majority of voters went for their candidates' message of a more collaborative process to determine the direction of development for downtown Chappaqua.
What the result could mean for the future of the Form-Based Code was unclear late last night. The Town Board is scheduled to hold a public hearing on the proposed zoning legislation at its Nov. 10 meeting and potentially vote on rezoning in December.
Tuesday night's results in the general election reverses the Democrats' victory in the party's June primary, when they handily defeated the Unite New Castle slate. However, following the primary, Katz remained upbeat because a wider cross-section of voters would be heading to the polls.