Katz Calls for Repeal of Governor's Gun Bill
We are part of The Trust Project
State Assemblyman Steve Katz (R,C,I/Yorktown) said last week an amendment proposed by Gov. Andrew Cuomo would handcuff law enforcement personnel by preventing them from carrying weapons on school grounds.
Katz maintained Cuomo hastily signed the New York Secure Ammunition and Firearms Enforcement (S.A.F.E.) Act without realizing its ramifications. He said 50 of New York's 62 counties have passed or are currently discussing resolutions to rebuff the law.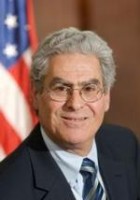 "If something were to happen at any of these schools that required the police to come to the property, it would be illegal for them to do so because of the negligence of the S.A.F.E. Act," Katz said. "You see, the governor's bill did not account for the fact that our police officers use specific firearms in the line of duty, which they now either have to change or be found guilty under the law. So if a police officer were to respond to a potentially dangerous situation at a school, they would be breaking the law in doing so."
Meanwhile, Katz said Cuomo's special provision to the act would allow those in the entertainment industry to carry firearms.
"The spirit of the bill was to prevent violent gun crimes. Yet rather than give our law enforcement the capacity to enforce the law, the governor would rather allow Hollywood to glamorize violence in our state," Katz remarked. "This cannot be the way New York continues to do business. We cannot let the misguided priorities of those in charge hurt the people that protect us."
Several members of the Yorktown Town Board and Putnam County Sheriff Don Smith, who were scheduled to appear with Katz at a press conference at Yorktown Town Hall before the event was snowed out, lent their support to Katz's efforts in a written release.
"The assemblyman is right in his criticism. It is clear that some people don't have their priorities in the right place," Smith said. "There are provisions in the S.A.F.E. Act that were not thought out, and it shows. I am deeply concerned that this law violates the Constitution and our citizens' rights."
"As the father of three young children, I was unnerved to hear that our local law enforcement would be prohibited from entering school grounds without direct permission from school administrators," said Yorktown Councilman Terrence Murphy. "It is unfortunate but in this day and age communities must take every precaution necessary to protect our kids at home and now at school. This stipulation makes this a flawed piece of legislation and I thank Assemblyman Katz for bringing it to our attention."
Katz has assembled a Law Enforcement Advisory Council that will discuss plans to ensure the safety of children in school zones, among other topics.