Kaplowitz Announces Bid for Ninth Term on County Board
We are part of The Trust Project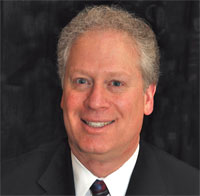 County Legislator Michael Kaplowitz  (D-Somers) got an early jump on the 2013 campaign when he announced last Wednesday that he would be running for a ninth term for the Board of Legislators' 4th District.
Kaplowitz, 53, a certified financial planner, said he decided in favor of another re-election bid because he still had the desire to help his constituents in Somers, Yorktown, New Castle and a portion of Bedford and residents throughout the county.
"The first determinant for me is (a) I know have the enthusiasm and (b) I still have a good , positive message in my mind and I can help," he said.
While Kaplowitz has had an independent streak in him throughout his political career, he angered some of his fellow Democrats last December when he and Legislator Virginia Perez (D-Yonkers) decided to reach a compromise on the 2013 county budget with the board's Republican block. Republicans currently hold seven seats and needed the help of two Democrats to come to an agreement.
Kaplowitz once again defended his decision, saying he was interested in reaching a responsible agreement that preserved most services and protected the county financially. He said that residents of all political persuasions have thanked him for helping to reach a compromise and only some of those "highly embedded in the legislative process" have grumbled.
It is a tact he has taken at times throughout his 16 years on the board.
"At a time when extreme partisanship and political games are paralyzing government at every level, I have sought to be an independent voice for the people of Northern Westchester and Westchester County," said Kaplowitz, the current chairman of the Board of Legislators' Environment and Energy Committee.
He pointed to his experience in both public service and in the financial services industry that would continue to be helpful on the board.
If he's victorious in November, Kaplowitz said he would do his part in continuing to help his communities find solutions for sewer problems, including decades-long dilemmas that have yet to be solved. In Yorktown, there are still about 1,000 homeowners, many of them with failing septic systems, who are part of the Hallock's Mill Sewer District but have not been hooked up.
Those homeowners would either need to join the other 4,000 existing district residents in the town plant, but capacity remains an issue, or have their sewage diverted to the county wastewater treatment plant. Kaplowitz said he would fight for the $10 million in East of Hudson money once Yorktown officials determine the best plan of  action.
In New Castle, Kaplowitz pointed to helping move forward the nearly 300 units at Riverwoods, Yeshiva and Random Farms into a county sewer district and making sure $16 million in New York City funds is available for the project.
A priority is to have his district's four communities share in the $3.6  million of interest that has accumulated in East of Hudson, which would bring in nearly an additional $1 million for sewer projects in each of those communities.
Kaplowitz said he would continue to work with other county officials to create a local development corporation that would help non-profits improve their facilities by reducing their borrowing costs through the use of tax-free bonds without any  cost to taxpayers.
"My goal is to create a lot of jobs–construction jobs, good paying jobs–and economic activity that we need in Westchester," Kaplowitz said.
It is unclear what Republican may step up to challenge Kaplowitz in the fall. In 2011, Yorktown Councilman Terrence Murphy opposed the longtime incumbent but came up short in his bid.
There has been talk of Murphy taking another run at Kaplowitz. Messages left for Murphy last week were not returned. Similarly, calls placed to county Democratic Chairman Reginald LaFayette regarding any possible Democratic challenger in light of last year's controversial budget vote also was not returned.