JV Mall Expansion Plans Okay with Residents, Officials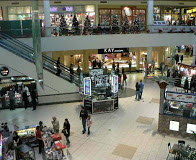 The Jefferson Valley Mall, Yorktown's premier shopping center, is planning a substantial facelift, much to the delight of residents and town officials.
"I think the redevelopment of the mall is a good idea. Making it people friendly is really great," said Paul Moskowitz, a resident of Hunterbrook Road.
Representatives of Simon Property Group, managers of the 31-year-old mall, presented a detailed plan during a public hearing at a packed Yorktown Town Hall that included many residents from nearby Jefferson Village.
The mall is slated to expand by 20,000 square feet. The food court will be relocated, as will the entrance that is currently near Sears. There will also be an outdoor seating area and several new restaurants, as well as landscaping and parking lot improvements.
"We are very excited about this project," said Tenille Jordan of JP2 Architects.
The renovations are expected to be done in phases, starting in about 18 months. While construction is taking place, certain parts of the mall will be closed.
"From what they've said this is terrific and this will increase the property values of the condominiums," said Jefferson Valley resident Jay Tinger.
"I think the plan they developed is a perfect balance," said William Primavera, a local realtor.
The Town Board issued a negative declaration for the project and approved required tree and wetland permits. Town officials requested that Simon representatives submit a landscaping plan and a signage master plan for their review.