Jones Makes it Official, Announces Bid for Congressional Run Next Year
News Based on facts, either observed and verified directly by the reporter, or reported and verified from knowledgeable sources.
We are part of The Trust Project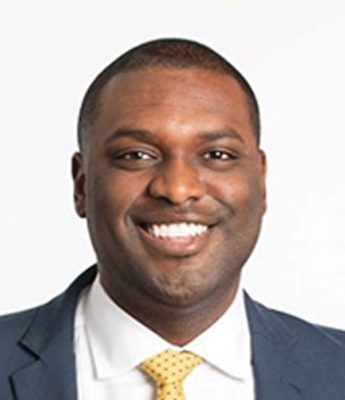 Former congressman Mondaire Jones made it official Wednesday morning announcing that he will run next year in hopes of recapturing his old 17th Congressional District seat.
His entry into the race had been widely anticipated by many Democrats in the district for the past few months as they hope to wrest back the seat from Republican Mike Lawler (R-Pearl River). Lawler defeated five-term congressman Sean Patrick Maloney last fall after the configuration of the district changed following redistricting.
In a less than three-minute video, Jones highlighted his Rockland County roots and having been raised by a single mother and whose grandparents were a janitor and a housecleaner.
"Most people in Washington didn't grow up like me," Jones said in the video. "They had no idea what it's like to struggle. We've got to get Washington back on the side of working people. I know we can do better."
After he was redistricted out of the 17th district, Jones, who had lived in White Plains, decided to run for a seat in New York City but lost the primary. He chose against running in a primary against both Maloney and 16th Congressional District Rep. Jamaal Bowman (D-Yonkers) last year. He is now a resident of Sleepy Hollow.
Jones has at least two announced opponents for next June's Democratic primary – Elizabeth Geraghty, the sister of Michigan Gov. Gretchen Whitmer and a former Katonah-Lewisboro Board of Education member, and former Bedford councilwoman and supervisor MaryAnn Carr.
However, they and any other would-be opponents could have difficulty getting traction, at least among the Democratic Party's establishment.
In a joint statement from the chairs of the Westchester, Rockland and Putnam County Democratic committees, Suzanne Berger, Schenley Vital and Jennifer Colamonico, respectively, they announced their endorsement of Jones' candidacy.
"Mondaire Jones has dedicated his life to fighting for the Lower Hudson Valley, whether as a community organizer, a litigator in the Westchester County Attorney's Office, or more recently as the youngest member of House leadership in Congress," the statement read. "His record of bringing hundreds of millions of dollars for schools, housing, and health care, reducing prescription drug costs for seniors, and voting for record amounts of law enforcement funding to keep our communities safe are just a few reasons why we're proud to endorse his campaign."
He has also been endorsed by more than 70 local elected officials as well as Democratic members of the district's state legislature delegation and some Democratic county legislators in Westchester, Rockland and Putnam.
In a statement a few hours after Jones' announcement, Lawler immediately branded Jones as "a radical progressive," comparing him to Rep. Alexandria Ocasio-Cortez while vowing to earn re-election by being a "bipartisan problem solver."
He also took a swipe at Jones for refusing to run for re-election in his own district.
"No matter how hard Mondaire Jones tries to run away from his previous record in Congress – just like he ran away from his constituents in 2022 – nothing will change the fact that Mondaire Jones is a radical progressive who is endorsed by AOC and 'the Squad', supports the defund the police movement and New York's disastrous cashless bail law and voted for the reckless spending that saddled us with record high inflation," Lawler said.