Jones Looks Forward to Being Part of Major Changes in Washington
We are part of The Trust Project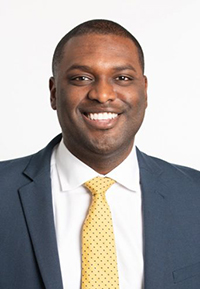 In June, Mondaire Jones turned the eight-candidate 17th Congressional District Democratic primary that some observers thought would be a nail-biter would into a rout.
Now, he's looking to complete his political ascent with a victory in the general election and succeed retiring Rep. Nita Lowey as the district's congressional representative.
Jones has been labeled as liberal, extreme, far left and worse by some of his detractors, but to Jones the issues he supports are common-sense stances to help working- and middle-class families improve their lives: affordable quality child care, a $15 minimum wage, education equity, lifting the $10,000 cap on the SALT deduction and support for infrastructure projects.
"This is the important work that anybody that wants to represent this district in Congress must do because lives are at stake, too many lives have unnecessarily been lost and we've got to gin up the economy again, and that includes assistance for small business and also for people who are struggling to pay the cost of rent or mortgage," said Jones, 33, a product of the East Ramapo School District and a graduate of Stanford University and Harvard Law School.
Getting the COVID-19 pandemic under control must be successful to have any longstanding economic recovery. It starts my changing the leadership in Washington, one that believes in science and take the steps needed to protect people, Jones said.
As a supporter of Medicare for All but who would be willing to incrementally improve the Affordable Care Act to start, Jones has said that health care should be a right, not a privilege, that travels with you when you change or lose your job.
"(The pandemic) has exposed a lot of deficiencies in our social safety net; 100 million are uninsured or underinsured," he said. "We have to make sure that we don't have a health care system that continues to tie health care to your employment status."
Jones pledged to fight for the elimination of the $10,000 limit on the state and local tax deduction that has punished too many hardworking families locally.
The failure of the Republican-controlled Senate to pass the Heroes Act, which was approved by House, prevented $1 trillion in state and local aid from being distributed around the county, he said.
Jones supports a major infrastructure bill that would create thousands of jobs while also paying for the necessary rebuilding of many roads and bridges throughout the nation, along with light rail, which the district desperately needs.
He decried the Trump administration's hostility toward immigration, which included the family separation policy at the border and putting children in cages. Jones want to see comprehensive immigration reform that should offer a pathway to citizenship for 12 million undocumented people and DACA recipients.
Everyone should be treated with respect and dignity, including immigrants, who for generations have helped the United States renew itself.
"Immigrants are people we need to see when we look into the mirror," said Jones, who had previously worked for the Westchester County attorney's office. "We need to see immigrants as our friends, our neighbors, our loved ones, as our family members and, of course, people who are helping us get through the worst economic crisis since the Great Depression and the worst health crisis since the 1918 Spanish flu."
Jones supports the Green New Deal, which he called "a jobs creation program" that would push the country toward the goal of 100 percent renewable energy. He estimated that it could create as many as 20 million new jobs.
As a result of the Trump presidency, Jones said he will work to bolster some of the institutions that he believes have been weakened over the past four years and subjected to political manipulation. For example, reforms are needed for the postal service to make sure that operational changes aren't made by the whim of the president or the postmaster general, he said.
Over the summer, Jones successfully sued President Trump and the postmaster general by obtaining an injunction that will treat all voting ballots as first class or priority mail from Oct. 26 through Nov. 6.
Jones said he supports what he calls expansion, not packing, of the U.S. Supreme Court. If Judge Amy Coney Barrett is confirmed this week, expansion is needed to achieve the balance that a 6-3 hyper-partisan majority would undercut, he said.
Having grown up in Section 8 housing, the son of a single mother, Jones said he is determined to provide future generations with the opportunities that were available for him.
"It would be the honor of my life to serve the people of this district in the United States Congress," Jones said. "I look forward to bringing my experiences at the local and federal levels to the policymaking process to the halls of Congress, and I look forward to bringing the kind of perspective that we need to bring us out of this national nightmare."