Jones Among Three Democrats Running for 17th Congressional District
News Based on facts, either observed and verified directly by the reporter, or reported and verified from knowledgeable sources.
We are part of The Trust Project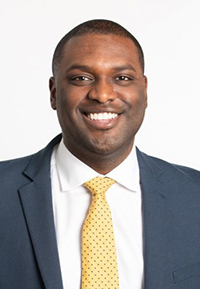 Nearly 17 months before the next federal election three Democrats have lined up to take their shot at the nomination in hopes of winning back the 17th Congressional District from freshman Rep. Mike Lawler (R-Pearl River).
Last week former Bedford councilwoman and supervisor MaryAnn Carr said she officially filed her paperwork to make herself a candidate, joining fellow Bedford resident Elizabeth Geraghty who announced her intentions last month. Gereghty, the sister of Michigan Gov. Gretchen Whitmer, is resigning from the Katonah-Lewisboro Board of Education on Tuesday, according to the district's website.
She has served on the school board 2019, and is stepping down presumably to prepare for her congressional run.
Published reports have also stated that former congressman Mondaire Jones, who was redistricted out of the 17th Congressional District and sought to run for a seat in New York City rather than force a primary against Rep. Jamal Bowman (D-Yonkers), is expected to jump into the race next month. That was confirmed last week by Westchester County Democratic Chair Suzanne Berger, who said that Jones, who now lives in Sleepy Hollow, is likely to make a formal announcement sometime in the first half of July.
Attempts by The Examiner to reach Jones were unsuccessful.
Berger said she expects the potential list of Democratic hopefuls to continue to evolve through at least the end of the year as prospective candidates test the waters and seek support from the party. For now, Gereghty, Carr and Jones are the only three names being mentioned, she said.
"To me, it's too early to say what the field will look like," Berger said. "Everybody's entitled to explore, but I believe the field we have today will not be the same field we have as we go into the primary (next year)."
Carr said she is running because there are issues that she cares deeply about that are not being addressed by Lawler and that she can identify with the challenges many district residents are facing.
"I know what it is to try and make ends meet on a working-class salary and raise a daughter and raise a child," said Carr, an IT professional.
Carr first got on the Bedford Town Board in 2016 during a special election and won a full four-year term in November 2017. She then became supervisor after Chris Burdick left that post when he was elected to the Assembly in 2020. Carr was defeated in her re-lection bid by fellow Democrat Ellen Calves in a primary for the supervisor's spot in 2021.
While Jones might be seen as the candidate to beat since he has already been elected to Congress, Carr said she has confidence in her qualifications and her values.
"I believe in the district, I believe in the people in this district and I believe that their kitchen table talk and their concerns are very similar to mine," Carr said. "That's why I'm in it."
Meanwhile, Gereghty announced her intention to run for Congress in mid-May. The owner of a small business in Katonah, Gereghty was motivated by a Republican majority that she described as "radical."
"Because when reproductive rights are getting rolled back in state after state, and schools have to take money from books and spend it on bulletproof glass because Congress refuses to do anything on gun violence, when it costs too much to live in the Hudson Valley or run a business here, and the radical majority in Congress is too busy banning books to help working families like yours, something has gotten way off track," Gereghty said in her campaign introductory video.
Last month, Lawler opened a community outreach office in Cortlandt at least in part to reach out to various constituencies, the Latino communities of nearby Peekskill and Ossining.