JFK Students Help with Hurricane Relief in Staten Island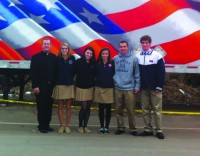 Five seniors from John F. Kennedy Catholic High School in Somers joined Rev. Mark Vaillancourt in hand-delivering more than 1,200 perishable items and $3,200 to students at a high school in Staten Island whose homes were destroyed by Hurricane Sandy.
"I consider our school equally blessed to have students who live out our faith by recognizing their place in the greater community and give back to it," said Vaillancourt, who is president and principal of JFK. "A future guided by such selfless citizenship is a future for which we can all be thankful."
After learning of the devastation in areas like Staten Island, the student government collected funds to purchase gift cards for building supplies so families could try to rebuild their lives. The student body also amassed perishable food for the Veterans of Foreign Wars relief center on the south shore that has become a national drop-off site.
On November 19, Gabrielle D'Amato, Shannon Spillane, Natalie Burke, Ryan Empson and John Brabazon traveled with Vaillancourt to St. Joseph-by-the-Sea High School in Staten Island to meet about 40 students who had personally been affected by the hurricane.
"This will go a long way toward helping them," said Rev. Michael Reilly, principal of St. Joseph-by-the-Sea, where Vaillancourt served for four years as chaplain, assistant academic dean and science department chair prior to joining JFK.