JFK High School Honors Former Player at Gym Dedication
We are part of The Trust Project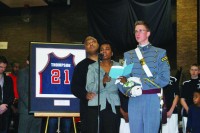 A former John F. Kennedy Catholic High School student and star basketball player for the Gaels was honored last week by alumni, family and friends as "a special young man" and "an All-American kid."
A #21 navy blue jersey for 2006 JFK graduate and 2010 West Point graduate Tyrell Thompson was retired December 11 prior to the Gaels' home opener against Mamaroneck High School. Thompson, a U.S. Army lieutenant, died August 22 after collapsing during a pick-up basketball game.
"Tyrell's life embodied the Kennedy ideals of courage and compassion," said Rev. Mark Vaillancourt, president and principal of JFK. "We should let our lives do the same."
Thompson, who possessed a smooth jump shot, was one of the leaders of the Gaels' 2004 New York State and Federation Championship team. His former coach Tom Nelligan and many of his teammates were in attendance at the jersey ceremony.
Also on hand for the special occasion was Thompson's parents, Al and Lisa Scott, and his wife Michelle Smyth, a former JFK point guard and a 2006 classmate.
"Some say that Ty helped make Kennedy," Lisa Scott said. "But they must also realize that Kennedy helped make Ty."
Thompson was also remembered fondly by Army coach Zach Spiker who remarked, "Tyrell was a joy to coach. He brought his love and passion for the game of basketball and his infectious smile to practice every day. I consider myself lucky to have had the opportunity to coach Tyrell during his senior season as he completed his West Point developmental journey."
JFK also dedicated its newly renovated gymnasium. Work took place over the summer to replace wooden bleachers with new, retractable seating. A new center court logo, designed by 1993 graduate Matthew Walker of Walk Design, adorns the resurfaced hardwood.
The $250,000 capital project is being supported by generous donations from alumni and parents, for whom nameplates will be installed on bleacher rows in the gym and outdoors on the new synthetic turf fields dedicated last year.