It's About Time: Mt. Kisco Firm Makes Science Education Fun
We are part of The Trust Project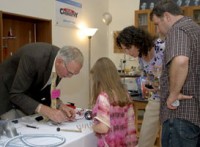 This summer represented a major step forward in the history of It's About Time.
The company, the leading publisher of hands-on, inquiry-based science and math curriculum for middle school and high school students, moved from Armonk to Mount Kisco two months ago placing the company under one roof for the first time.
With 21,000 square feet available at the Diamond Properties complex at 333 N. Bedford Rd., It's About Time has its offices, product development and warehouse in one place, instead of scattered around the United States.
While the home may be new, the mission remains the same: to make science and math exciting and engaging for all students, even those who aren't academic whizzes. The curriculum develops a series of activities and experiments in areas such as earth science, active physics, active chemistry, astronomy and math that introduces the students to those and other areas of study.
Research on each program lasts about three years. It's About Time is the primary company that publishes math and science curriculum backed by the National Science Foundation, said its co-owner Laurie Kreindler, a filmmaker who operates the company with her husband.
"The program must be based on research," Kreindler said. "The research is all about how people learn–cognitive science. So every mechanism we have, the reason why it works so well is that there's nothing random about it. They're absolutely engineered based on cognitive research and how people learn."
Last week, science and math educators from around the country converged at the company's new headquarters to help celebrate It's About Time's Mount Kisco grand opening. The gathering also honored Dr. Gephard Salinger with the first Kreindler/Rowe Impact on Education Award for his work in helping to develop nationally disseminated research-based Science, Technology, Engineering and Mathematics (STEM) instructional materials that have helped millions of students.
Earlier this year before the move, It's About Time forged a partnership with Iona University to help work with educators on how best to attract students to science and math, some of whom may have shied away from those subjects, said Margaret Masi-Cunzio. With most states adopting new standards in those areas, there is greater emphasis placed on having students become more comfortable with science and math.
"That's really one of the missions of higher education institutes, it's really to help students not only find a love of science but make sure they are well versed in it so they, in turn, can work with students and make science and math stronger because it's an area we'd really like to see built up," Masi-Cunzio said.
During the Aug. 23 event, there were various stations set up on It's About Time's floor where educators demonstrated how the curriculum works. One demonstration from the ninth-grade Inquiry Science course challenges students to propose design improvements for a boat, the size of an average bathtub toy, made of trash, said Lee Pulis, a professional development educator at the Museum of Science in Boston. Students must also submit a patent application.
"As far back as 2000, the standards for technological literacy for all Americans said we really need to know about this stuff because this is our world," Pulis said.
With these types of practical but fun activities that are part of the curriculum, science education can spark the imagination of all students, said Bob Davies, a 13-year sales consultant for It's About Time.
"It's benefiting the high-end kids and it benefits the low-end kids who never thought they can do science," Davies said.
Sharon Huskak, a sixth-grade science teacher from the Franklin School District in Franklin, Wisc., said since her school has used It's About Time's curriculum she has seen a noticeable difference in students' attitudes toward science.
"They're excited to come into science and every kid, no matter what the buildup, if you're low end or high end, is successfully challenged," Huskak said. "They're engaged every day and active at being scientists."