InterGenerate Opens New Co-operative Garden in Mount Kisco
We are part of The Trust Project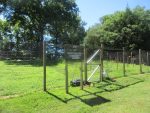 An organization that has been creating community gardens and promotes environmental sustainability has opened a co-operative garden where a portion of the harvest will be donated to a local pantry.
InterGenerate has partnered with Arc of Westchester on the garden that is located on the grounds of the Ann Manzi Center in Mount Kisco. Earlier this month, members planted the first seeds in the joint effort that should yield its first harvest this fall, said Susan Rubin, a food and environmental education and a member of InterGenerate. A more extensive planting will be done next spring.
There are several beds at the garden, and as more members come aboard, there will be more extensive plantings in future seasons, she said. Membership is $50, half of which is refundable. Members will share in the harvest.
"We got a late start but the good news is right now, is when you put seeds in the ground for fall," Rubin said. "We planted a lot of beans and squashes and things and by September, October we'll have lots of nice food there."
A significant portion of the produce from the garden will be donated to the Mount Kisco Interfaith Food Pantry at the United Methodist Church on East Main Street. The pantry supplies an estimated 300 area families every week with a combination of canned and packaged goods, fresh produce and meat or fish.
Furthermore, the weekly Thursday Farmers Market at Neighbors Link will be supplemented by the InterGenerate/Arc of Westchester venture, Rubin said.
Although Arc of Westchester has operated a garden at the site for several years, Rubin said that this is the first time that organization is partnering.
With food insecurity on the rise throughout the county with pockets of poverty, including Mount Kisco and surrounding communities, the garden is a welcome sight for many, Rubin said.
"What's so interesting is I feel like the need now is higher than it's been before," she said. "We're seeing unprecedented levels of food insecurity and it's amazing because it's this beautiful county and we see such wealth and lushness, but on the other hand there's also poverty that's really not that far away."
Roberta Horowitz, the Mount Kisco Interfaith Food Pantry's, director of food operations and programs, said the pantry has also partnered with Mount Kisco Elementary School and it garden for produce. She said a co-operative garden helps everyone involved.
"Everyone who works there will be able to benefit from the garden and part of it will be donated when it comes to the pantry as well, Horowitz said. "It's really the community working together and one helping the next. So it's a really nice model."
The pantry is open on Tuesdays from 5 to 7 p.m. and Wednesdays from 9:30 to 11 a.m.
Rubin said the effort makes a lot of sense.
"We can grow food that's healthy and we can make it cheap," she said.
In addition to its partnership with Arc of Westchester on the Mount Kisco Garden, InterGenerte, which was established in 2009, operates gardens in Katonah and Chappaqua. It is also working to open the Millwood Community Garden.
Millwood Garden Aims for 2019 Planting
The Millwood Community Garden is targeting a spring 2019 planting after delays extended too far into the planting season.
The garden, located at the site of the old Millwood Swim Club on Sand Street, has two families signed up and is expecting many more, said Suzi Novak, InterGenerate's vice president and community garden coordinator. It will have 30 beds when fully operational.
"One of the things these gardens do is they give people the opportunity for community that really doesn't exist that many places anymore," Novak said.
She expects that 75 to 80 percent of the people who will garden at Millwood will live within a mile of two of the site.
Last week, the New Castle Town Board agreed to do a survey of the property to erect a fence on the perimeter of the parcel.