News Based on facts, either observed and verified directly by the reporter, or reported and verified from knowledgeable sources.
Initiative Pairs Local Student Musicians, World-Renowned Performers
We are part of The Trust Project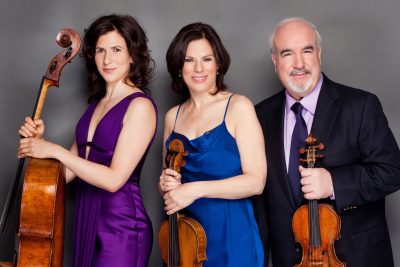 Thanks to a new youth initiative by the Westchester Chamber Music Society (WCMS), select local teens will now have the rare opportunity to display their budding musical talents alongside world-famous classical musicians.
At the group's concert this Sunday, a student group from the Music Conservatory of Westchester will open for an ensemble featuring Glenn Dicterow, the former concertmaster of the New York Philharmonic. Dicterow leads The Amerigo Trio, which also includes violist Karen Dreyfus and cellist Inbal Segev.
The trio's performance at the WCMS concert will be preceded by a student ensemble from the conservatory featuring two violinists, Elizabeth Kim and Tiana Kaga, and cellist Leon Wang, all local high school students. They will be accompanied on harpsichord by their coach, Jean Newton, who is also the Music Conservatory of Westchester's executive director.
"The goal of the Youth Initiative is to give young students who study chamber music an opportunity to perform in front of a highly knowledgeable and supportive audience while simultaneously having the opportunity to interact with some of the top professionals in chamber music," explained Peter Aupperle, president of the Westchester Chamber Music Society. "The Board of Directors was brainstorming about how best to include younger players and potentially the next generation of chamber musicians in our concert series."
To ensure creative continuity in the concerts, Aupperle said, "each of the professional groups has been made aware of the specific student group and what piece they are performing at the beginning of the concert. As a result, the professional chamber groups have adjusted their program of pieces to fit best with the students' selections."
For their part, the professional musicians comprising the Amerigo Trio wholeheartedly embrace the collaboration with the students.
"It is a wonderful idea to have younger musicians attend a concert and, at times, participate in the program as well," Dreyfus said. "It is important for student musicians to learn the craft of playing their instrument and know the enjoyment of playing with their colleagues as well. We are happy to share the concert with these musicians."
Dreyfus sees the value that this experience affords the students.
"I don't think I was given this kind of opportunity when I was a student musician, but I was lucky enough to play with musicians who were pros when I was just starting out," she said. "It was a great learning experience for me to be immersed in their total dedication and knowledge of the music we were making together. Those were invaluable experiences, which I try to impart to younger musicians when I collaborate with them."
Newton said she and her students were thrilled when they were told of the invitation to perform with the Amerigo Trio.
"I was honored to be invited and very excited for the students," Newton said. "Student musicians greatly appreciate opportunities to perform for a public audience, and this particular opportunity to be the opening act for such a renowned group of professional artists is unique."
Currently a junior at Hastings High School, the 16-year-old Wang has been playing the cello since third grade and has been a student at the conservatory since fourth grade. He said he and his ensemble-mates have been "rigorously practicing at home and at weekly rehearsals to prepare to the best of our ability" for this "amazing opportunity presented to (us). I want to be able to play more in a professional setting and experience what professional orchestra and concerts really feel like, as compared to a student concert."
Like Wang, Kim has been pursuing her musical passion from an early age. A senior at Edgemont Junior-Senior High School, she has been playing the violin for 15 years.
"Personally, I enjoy performing very much, so I'm looking forward to playing for such an audience," Kim said. "Most of us student performers aren't really familiar with playing in the baroque style, so we are definitely trying to feel the music when we rehearse."
All WCMS concerts are performed at Congregation Emanu-El of Westchester in Rye at 4 p.m. For tickets and more information on this Sunday's concert and future performances featuring local student musicians, visit www.westchesterchambermusicsociety.com.