Indy Candidate in 17th C.D. Fumes Over Placement on Socialist Line
We are part of The Trust Project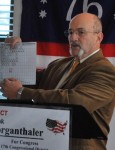 The independent candidate in the 17th Congressional District race has vowed to sue the New York State Board of Elections for placing his name on the Socialism and Liberation line on about 8,000 absentee ballots.
Frank Morganthaler, a Hawthorne resident who is opposing Democratic Rep. Nita Lowey and Republican challenger Joe Carvin on Nov. 6, said supporters alerted him to the development after the ballots had been mailed out early last week.
Morganthaler said unless the board of elections declares the ballots null and void and sends out new ones with an explanation, he will go to court to challenge the decision hoping to force new ballots to go out. About 5,000 of the paper ballots were mailed to Rockland County residents while close to 3,000 were sent out in Westchester, many of them to military members.
"Now to me, being a veteran and somebody that served this country, which neither of my opponents have, there's no greater insult, there's no greater insult than that," said Morganthaler, an ex-Marine whose calls his third party We The People.
The candidate, who aligns himself with the Tea Party, charged that the decision to put him on the Socialism and Liberation line, one of four minor parties that are running candidates for president, isn't coincidental. Earlier this year, Morganthaler had a run-in with the state Republican election commissioner who permitted an unaffiliated voter and a friend of Carvin's to challenge Morganthaler's petition that ultimately knocked him off the ballot for the Republican primary in June.
In New York State only a registered Republican can challenge a petition for the party's primary, Morganthaler said. As a result, voters who may be interested in his candidacy are likely to shy away from him because of the negative connotations, he argued.
"I understand they have to put me somewhere (on the ballot)," Morganthaler said. "That's not the point. I fully understand that. My question is, when you have four options why did you put me there? You have to understand the same people who made this call are the same people who fought me in court on my original Republican petition."
The three other minor parties that have candidates running for president are the Green, Libertarian and Constitution parties.
However, Board of Elections spokesman John Conklin said last Friday state law mandates that an independent candidate must be placed on the first available line that is not one of the six parties officially recognized in the state. In New York, Democrat, Republican, Conservative, Independence, Working Families and Green are the official parties, he said.
Conklin said Morgnathaler appears on the seventh line from the top, which is the Socialism and Liberation line. The Liberation and Constitution lines are immediately below that.
Morganthaler said he would have been satisfied to be placed on any other line. Now he wants to avoid the same problem for the Election Day ballot.
"I'm going to federal court," Morganthaler fumed. "This is not going to stay, one way or the other. They can either do the right thing or we're going to fight to make a change."
Since the race takes in more than once county, the state Board of Elections has jurisdiction over the ballots.