Opinion Advocates for ideas and draws conclusions based on the author/producer's interpretation of facts and data.
In Shadow of 1999 Earthquakes, New Natural Disaster Revives Old Nightmares
We are part of The Trust Project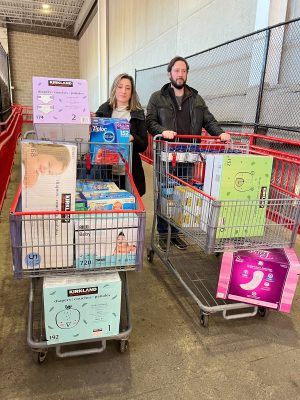 Turkish-American Westchester Moms Turn Tragedy into Common Cause 
To even come close to understanding why Zeynep Parlak Vitelli was shaking so hard a few days ago, you have to know what unfolded in her childhood a couple of decades ago.
I'm always fascinated by the depth and layers of people's lives – the back stories we don't know – even of the people we already know.
Zeynep is the wife of my friend and colleague Andrew Vitelli, the former Examiner editor who helped us launch our Putnam edition in 2009 and then assisted in our rollout in White Plains a couple of years later.
I remember when Andrew, a lifelong Westchester resident, first told me about meeting Zeynep, the charming tour guide his mother hired for an April 2014 family trip in Turkey.
It was a thrill to see Andrew and his beautiful Turkish bride celebrate at their Westchester reception in 2017. The three of us even hit a northern Westchester batting cage together one afternoon the next year.
By early 2020, the three of us got together for lunch in Mount Kisco with their adorable baby daughter, Zoe.
Tragedy Strikes
Beyond that, Zeynep and I have gotten to know each other a bit in the way people often do these digital days, through Facebook posts and some group texting banter here and there.
But it was only a few days ago when I learned of the tragedy that marked Zeynep's early life.
When Monday's earthquake hit, it had been nearly a quarter-century since the day that changed Turkey and Zeynep forever.
Since then, she'd come of age, went to college, started a job, moved to Westchester, married her American love, became a mom, and then, in December of last year, earned her U.S. citizenship.
She achieved all that despite the childhood memories and scars of 1999.
"For Americans, I think life is before 9/11 and after 9/11," the White Plains resident said in an e-mail interview last week. "For us, in Turkey, it is the 1999 earthquakes."
That horrifying year, within three months, a pair of earthquakes shattered her native land and her 11-year-old world.
The depth of the devastation from 1999 is almost impossible to imagine.
Awakening 
It started on a mid-summer day. Zeynep was sleeping when her world first shook.
She was awoken at 3 a.m. that August 17 to a 7.4 magnitude earthquake; 18,000 people were killed across several cities.
With most of her city destroyed after the Izmit quake, Zeynep's parents decided to move in with her grandparents until the damage in their apartment building was fixed.
But terror struck again that Nov. 12 when a 7.2 magnitude earthquake left her hometown, Duzce, in ruin. The local schools collapsed. The family's apartment building was uninhabitable.
"I lost touch with most of my childhood friends," Zeynep recalled. "To this day I am very grateful that we had my grandfather's little home in the village. Many of my friends and relatives had to live in tent cities and later upgraded to container homes."
Full Circle 
Life would never be the same.
Yet life did go on. And by August 2019, when Zeynep delivered Zoe into the world at White Plains Hospital, 5,000 miles away from her hometown and with Andrew looking on, it represented a rebirth for the entire family.
On that joyous occasion of new life, it had been 20 years to the day since Turkey was ripped apart by the death and destruction of 1999.
"I said to my family, this is now the time to heal our old wounds and look at the future and not the past," Zeynep said.
However, it's not easy to vanquish a lingering sense of unease, a fear of losing your family. Zeynep's mother, father, and two sisters all still live in Turkey, as do several aunts, uncles, cousins, and friends.
"To this day I wake up every morning and check the news first thing to make sure my family is okay," she explained.
Relief and Grief
And then, last week, 24 years of that unease – the persistent fear of the worst, of waiting for the other shoe to drop – rushed back through Zeynep's body like a thunderbolt when she saw a text from a friend, alerting her to news of another devastating earthquake.
"I started shaking so badly I couldn't type the words on Google to look at the news," she said. "I was sure it was my region again; I was sure all my family and friends were gone."
Zeynep's hometown of Duzce resides along one of Turkey's major fault lines. But she learned tragedy struck this time in the southern part of the nation, in Gaziantep, far from her region, on the other side of the country. (As of early Monday morning, the confirmed death toll of the earthquake, which also hit Syria, had eclipsed 33,000.)
"I was so relieved that my family was safe, I started crying," Zeynep said. "Then I felt a profound level of guilt that I felt relieved it wasn't my family that died, it was someone else's. I am still trying to shake that feeling off."
With so many loved ones living in Turkey, Zeynep has had to absorb story after wrenching story in recent days. One features a friend crying out in anguish to her on the phone, explaining how her hometown, Iskenderun, is "just gone," with several relatives and friends dead.
"The ones that are alive but have nowhere to go," Zeynep said. "She cried and cried saying we need to help them, they are ruined. People for two days were digging through the rubble to save their loved ones from under the rubble because the rescue teams didn't reach their town."
Action Steps
And as Zeynep emphasized, the size and scope of the earthquake's destruction would be overwhelming to handle for even the wealthiest, strongest government.
But Zeynep, an executive assistant in White Plains, knows as well as anyone how important it is for the world community to take action now and avoid sitting idle amidst the grief.
That's why she and fellow members of a local Westchester Turkish-American Moms group are rallying to fundraise to support their native country. What started as a Facebook group a half-dozen years ago has evolved into a real-world social community, with members getting together with their families on Turkish national holidays in recent years.
"When we realized how dire the situation is we discussed ways of sending aid to Turkey," Zeynep said.
New Goals
Funda Suer is a founding member of the Westchester Turkish-American Moms organization.
Although Westchester Turkish-American Moms started as a way to link Turkish-Americans through common culture in Suer's Larchmont neighborhood, last week's events quickly made the group realize it needed to coalesce around fundraising and action.
"We stand united as Westchester moms, and families, in support of the people of Turkey and pray that they will find healing and unity," Suer said. "We invite our neighbors, friends, and each of you to provide humanitarian aid and show your support."
A pair of fundraising initiatives were launched by the group.
Suer started a campaign through Bridge to Türkiye (BTF), a charity founded by Turkish-American volunteers. BTF's local partner is AHBAP Association, a grassroots organization in Türkiye. All funds collected by BTF for earthquake relief will be disbursed to AHBAP and other local partners in the upcoming days. The current goal is to raise $50,000.
In addition to raising money through Bridge to Türkiye, the Westchester Turkish-American Moms group is separately working on sending out the most needed items to the disaster area.
Shopping Spree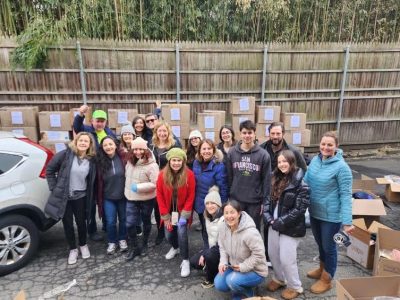 On Saturday, Zeynep and Andrew shopped at Costco for baby formula, diapers, hygienic pads, kids' cold medicine, wipes, baby ointment, digital thermometers, and vinyl gloves. On Sunday, volunteers met to box the collection and bring them to Portx Inc., a Turkish-owned shipping company based in New Jersey, which has volunteered to send the items to the impacted southeast region.
The Westchester moms group even organized with European Beauty Nail & Spa, a Turkish-owned business in Mamaroneck, to have a physical location where people could donate items. Rallying support for victims has provided the community with a constructive avenue to direct their grief.
"When we posted the call for donations to buy supplies, we really didn't know how many people would contribute," Andrew recounted. "We were planning on going to Costco and just buying a couple hundred dollars' worth of supplies with our own money, if need be, but figured that if we were going anyway, we might as well post something offering people the opportunity to contribute. We were pretty shocked by the amount of large donations we received. Friends, some we haven't seen in years, sending $100 or even $200."
Andrew stressed how fundraising success would make a significant impact, especially given the fact that one U.S. dollar is equivalent to almost 19 Turkish lira.
"I think that the efforts will make a real difference," he said. "If the Westchester Moms can hit their goal of $50,000, that can go a long way."
As of Monday morning, the group had raised more than $8,400 through 77 donors.
"Many are missing, and even if they are safe now, we do not know if they can stand in this rough winter without shelter for too long," the online campaign explains. "There is some help in the region, but not enough."
Destination Donate
To donate to the local fundraiser, visit tinyurl.com/3ewe7ztb. People can also visit www.bridgetoturkiye.org directly, with the money ending up in the same place whether or not generated through the Westchester Moms.

As for Zeynep, she knows it's a long road ahead. Children will need books, pens, toys, clothes, and much else.
Some members of the group have forged a plan to start a foundation. Zeynep plans to volunteer.
The disaster has already strengthened ties among Westchester's Turkish-American community.
"When we spoke with Funda today, we both said our job just started, and we will be working to help our people for many more years," Zeynep said. "Because it will take decades to recover from a catastrophe of this level."