HV Hospital Seeks Rezoning to Construct New Building
We are part of The Trust Project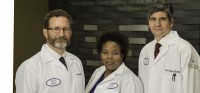 Hudson Valley Hospital Center is seeking a rezoning change from the Town of Cortlandt to construct a new three-story building for primarily physician offices.
In a letter to Supervisor Linda Puglisi last month, George Cronk, project manager for The Chazen Companies, which is overseeing the development, stated the 36,000-square-foot structure is needed to accommodate additional services available to patients as part of Hudson Valley Hospital's affiliation with New York Presbyterian Hospital.
"HVHC has a great track record of working with the Town of Cortlandt and this project will be no exception," Cronk stated.
The building will be on the parcel commonly referred to as the Citron site, as well as a portion of the main campus. A portion of the top level is slated to include retail space for medical goods, including pharmaceuticals and medical devices. The town's Zoning Code requires approximately 140 parking spaces but 175 spaces are being proposed.
The majority of Hudson Valley Hospital is located within an R-20 zone. Most of the project site is currently zoned Commercial Community (CC), which limits a building to 12,000 square feet and restricts a single use to no more than 4,000 square feet. Hospital officials are looking to rezone the project site to R-20.
"HVHC has invested millions of dollars into the campus allowing it to continue providing the highest level of care and services to the region," Cronk stated. "HVHC has transformed the 1960s hospital campus into a destination that competes with facilities typically found in much larger communities."
Meanwhile, the hospital's Ashikari Breast Center has recently received a three-year full accreditation from the National Accreditation Program for Breast Centers, a program administered by the American College of Surgeons.
"It takes a certain level of physician and administrative leadership to achieve this national benchmark," said Dr. Pond Kelemen of the Askikari Breast Center who led the accreditation efforts. "Given the ground-breaking reputation of the Ashikari Breast Center and the multi-disciplinary team of physicians, nursing staff and support services offered at the Cheryl R. Lindenbaum Cancer Center, this accreditation was a natural conclusion."
"This NAPBC accreditation speaks volumes about the quality of cancer services we offer," said Hudson Valley Hospital Center President John Federspiel. "When we opened the Cheryl R. Lindenbaum Cancer Center three years ago, we envisioned a place where patients could get quality care and support services in one location, close to home. We have achieved this and so much more."