HV Chamber's New Initiative a Mediapolis in the Making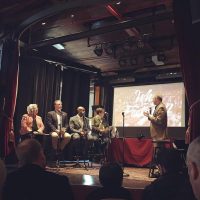 The Hudson Valley Gateway Chamber of Commerce kicked off its new initiative over the weekend in Peekskill with an array of events and programming aimed at celebrating the region's multimedia presence.
The chamber recently formed a new division called Art Industry Media (AIM) with a mission of promoting Peekskill and the surrounding area as a media hub. During a panel discussion Saturday morning at Dramatic Hall in the downtown, it was revealed that Peekskill has 75 businesses that fall in the multimedia category.
"Peekskill has the resources, Peekskill has the talent, Peekskill has the creativity for multimedia," said Peekskill Mayor Andre Rainey, one of the four panelists at the 90-minute forum. "Peekskill has so much potential. Let's show that potential. With the arts community, you can't go wrong."
Also on the panel were State Senator Terrence Murphy (R/Yorktown), State Assemblywoman Sandy Galef (D/Ossining) and Joan McDonald, director of operations for Westchester County.
"Peekskill has been on the cutting edge with arts studios and artists living there," said Murphy. "You have to have people willing to take the risk and you have people here in Peekskill willing to take that risk."
"This community has so many talented young people. I don't think we're tooting our horns loud enough," Galef said. "It's been growing and growing. I think all good things are coming to Peekskill."
With the Central Fire Station slated to open later this year, three existing fire stations will be vacant, so Rainey and prominent businessman Louie Lanza said discussions are underway on how possibly those buildings can be reused for youth arts programs.
Rainey mentioned one idea about using the station near the Peekskill Youth Bureau for music, while Lanza said another station would be ideal for culinary training.
Helping out the chamber by hosting other weekend events included Westchester Community College, Hudson Valley Center for Contemporary Art, Peekskill Arts Alliance, Peekskill Film Festival and Peekskill Clay Studio.