Hurricane Relief Effort Added to County's 9/11 Day of Service Projects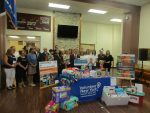 Over the last seven years, Westchester's annual 9/11 Day of Service has focused on helping those in need close to home. This year, it will have a much wider reach.
The upcoming weekend-long deployment of citizens organized by partner Volunteer New York! will still feature an assortment of community service projects across Westchester, Rockland and Putnam counties, but will also include a Hurricane Harvey relief effort to raise much-needed medical supplies for distribution along the southeastern Texas and western Louisiana coasts.
County Executive Rob Astorino said after the Sept. 11, 2001, terrorist attacks, communities throughout the United States came to the aid of New York. Now it's time for Westchester to reciprocate and help the areas devastated by Hurricane Harvey's historic rain and floods.
"Our hearts are open to those in need across the country with focus on Texas and Louisiana as well," Astorino said Wednesday at the kickoff to this year's 9/11 Day: Serve + Remember effort at the County Center in White Plains.
This year, the county included the AFYA Foundation, a nonprofit medical supply recovery organization that collects specific items needed in a community following a disaster. On Monday afternoon from 12 to 5:30 p.m., residents can bring items such as Ace bandages, soap, infant formula, work gloves, five-gallon buckets, diapers and wipes, cleaning supplies and school supplies to the County Center that will be shipped to Houston.
Danielle Butin, AFYA's founder and executive director, said her organization has collected about 300,000 pounds of supplies for areas affected by Hurricane Harvey. She expects that number to increase to 500,000 pounds after Monday.
While unannounced drop-offs are welcome, organizers are asking that donors register online at www.volunteernewyork.org/service so they can estimate how many supplies they will be sending off.
Meanwhile, individuals, families, businesses and organizations can sign up for the long list of service projects that will take place at various sites this weekend in the three-county area served by Volunteer New York! From pitching in at the Mount Kisco Interfaith Food Pantry and Hillside Food Outreach in Armonk to cleaning up the trails at Teatown Lake Reservation to volunteering at Furniture Sharehouse in White Plains, residents can choose what projects interest them and fit their schedule.
Last year more than 1,300 volunteers put in over 2,000 hours of service to help the community, Astorino said.
Alisa Kesten, executive director of Volunteer New York! said while 2017 doesn't represent a milestone anniversary of the Sept. 11 tragedy, for the families who had a loved one perish in the attacks the day will never be forgotten.
Furthermore, she said that for the more than 100 women that were pregnant and widowed on that day, those children will now be turning 16. One of the best ways to honor those lost and their families is to give back.
"These teens, their families and so many others don't forget and we can't either," Kesten said.
Monday will also feature a blood drive at the County Center 9 a.m. to 4 p.m. run by the New York Blood Center. To sign up, contact Janet Lokay at 914-995-2127 or e-mail je11@westchestergov.com.
Following the three days of service, Astorino said the county will once again hold its 9/11 ceremony on Monday at 7 p.m. at Kensico Dam Plaza in Valhalla, the site of the county's memorial, The Rising. There were 123 Westchester residents who died on Sept. 11.
This year, the county will be honoring the first-responders who have died from 9/11-related illnesses in the past 16 years. Astorino said the county worked with the New York City police and fire departments to honor the victims and their families. So far, families of nine FDNY members and three NYPD members have notified the county and will be part of the ceremonies.
"They're in our memories, the people that were killed, Astorino said. "It's something that we'll never forget as residents of Westchester and the greater New York area, and we want to make sure that ultimately good triumphs over evil."
For other families who want to take part, contact Clare Kelly at the county executive's office at 914-995-2933 or at ckelly@westchestergov.com.
Anyone looking to volunteer for community service projects over the weekend is asked to visit www.volunteernewyork.org/service to register and check out the full roster of projects.