Hundreds Protest Energy Projects Proposed in Cortlandt
We are part of The Trust Project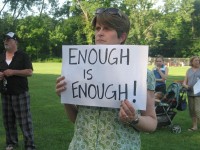 With signs declaring "Enough is Enough" and "Stop the Buzz," several hundred residents and officials held a rally in Verplanck last week to protest two different energy projects that everyone agreed would change the character of the quiet residential community.
"This is democracy at its best. This is democracy in action," remarked Cortlandt Supervisor Linda Puglisi. "This is a community that's energized in a good way to stop these projects. We don't have to become the energy region for the state or the country for heaven's sake."
A day before the rally, the Cortlandt Town Board passed a resolution to try to purchase the estimated 100-acre property currently owned by Con Edison on the corner of 11th Street and Broadway that is being looked at to house both a high voltage converter station and a high pressure natural gas pipeline.
The town could block the 50-foot-high, 1,000 megawatt station that generates a constant buzzing noise if it is successful in acquiring the land, but the pipeline could still be constructed since it is overseen by the Federal Energy Regulatory Commission, whose powers supersede municipal authority.
"I'm optimistic because we tend to be successful in the fights that we get involved in," said Cortlandt Councilman Frank Farrell.
"I feel optimistic that we will win this fight because we are right on this issue," said Cortlandt Councilman Richard Becker. "This community has done its fair share. Let some other town pick up the burden."
Cortlandt already houses the controversial Indian Point nuclear power plants in the Village of Buchanan, and the county's RESCO garbage burning facility is just over the town border in Peekskill.
"Who decided we would be Grand Central Station for every energy project in the northeast?" said Cortlandt Councilman Seth Freach. "This is going to affect everyone who lives in this area. This is going to affect property values. This is going to be everyone's problem."
The converter station would eliminate Letteri Field, a youth sports field used for football and Little League baseball, and be right across the street from historic St. Patrick's Church. The pipeline would run within 500 feet of Buchanan Verplanck Elementary School.
"We're all here to protect our kids," Puglisi said.
Petitions with more than 1,000 signatures have been sent to the PSC from the Cortlandt area calling for the converter station project to be rejected. Verplanck has more than 1,700 residents, while nearby Buchanan has 2,230 residents.
"If these two projects come in it will totally change our quality of life," said Buchanan Mayor Theresa Knickerbocker. "Our greatest asset is our people. This is a very grassroots fight. We need everyone to band together. There's strength in numbers."