Hundreds of Drivers Illegally Passed School Buses: Report
News Based on facts, either observed and verified directly by the reporter, or reported and verified from knowledgeable sources.
We are part of The Trust Project
Two northern Westchester school districts experienced a staggering number of motorists that illegally passed stopped school buses picking up or dropping off students during the first two months of the academic year.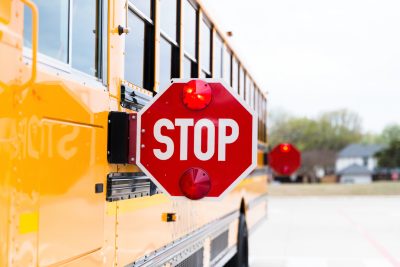 There were well over 600 illegal passes of buses in the Hendrick Hudson and Somers school districts combined from the start of the school year through October, according to statistics compiled by BusPatrol, a safety technology company, a safety technology company that affixes small video cameras on the stop arm of the school bus to document illegal passes.
In Hendrick Hudson, its fleet of 49 buses and vans had 367 illegal passes from Sept. 1 through Oct. 28 while in Somers, its 59 vehicles were illegally passed 280 times from Aug. 28 through Oct. 28. Both school systems have been participating in a pilot program with BusPatrol,
"It seems that it's happening at a higher frequency than it was years ago, and that's a scary thought," said Liz Gilleo, the transportation supervisor at Hendrick Hudson, who drove a district school bus for 20 years before serving in her current post. "I know there are more cars on the road now, but it's really scary that the kids in this state, in the country, are at such high risk, and people don't understand what the law is, what you have to do and what's required of them."
The greatest number of incidents occurred in Hendrick Hudson occurred on the Route 9A corridor and on Washington Avenue in Peekskill, she said.
Gerard Esposito, the assistant supervisor of transportation for Somers, said he wasn't surprised at the locations of where the greatest number of violations took place but was alarmed at the volume. It was rather predictable that Route 139, the heavily traveled thoroughfare where the district's elementary school and high school are located, had the largest number of any street with 40 violations, he said.
According to Esposito, many of his colleagues in the county have also reported a growing problem of motorists ignoring the law.
"I believe it's a problem, a rising problem in the areas between most of the districts in Westchester," Esposito said. "They're definitely seeing something along those lines."
Incidents of illegal passing is likely higher in Westchester than counties to the north because of the larger population, greater traffic volume and, at least in the southern portion of the county, proximity to New York City, said Steven Randazzo, the executive vice president for BusPatrol.
Randazzo added there are other factors that would account for the violations.
"People are more distracted than ever before, they're texting and driving," he said.
Gilleo said distracted driving is a major factor, but not the only reason. Aggressive driving also plays a role.
"I think some of it is distracted driving, absolutely because everyone's got 80 things that they're trying to do at once, and whether they're talking on the phone while they're driving or that they're texting and they're driving, but everybody's in a hurry to go wherever it is they have to go, and just people sort of not paying attention," Gilleo said.
Randazzo added there is a lack of traditional enforcement by police departments to try and capture violators illegally passing buses because of policy decisions by local officials on how best to allocate resources. The BusPatrol technology captures a violation and the license plate number of the vehicle.
Districts that sign up pay nothing to have the cameras placed on the school buses, Randazzo said. BusPatrol recoups money by negotiating with jurisdictions for a percentage of the fines collected by violators.
While Hendrick Hudson and Somers were able to sign up for the pilot program, Westchester County has not passed legislation yet that would enable every district to do the same.
Gilleo, who is president of the Lower Hudson chapter of the New York Association for Pupil Transportation, said the best way to cut down the violations is to give every district the chance to participate.
"To have the cameras on the buses and to be able to do it 180 days a year is huge," she said.