Hundreds in White Plains Join National Rally for Abortion Justice
We are part of The Trust Project
By Bailey Hosfelt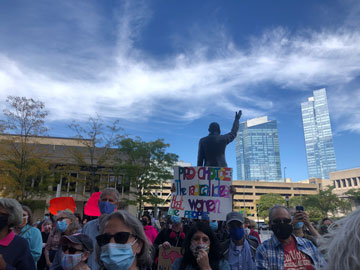 Hundreds gathered Saturday afternoon in front of the Westchester County Courthouse in White Plains for a Westchester Women's March rally to show their support for abortion justice and reproductive rights.
The rally, which featured engaging speeches from local leaders and action tables, joined more than 600 marches and rallies that took place nationally on Oct. 2 to mobilize and defend reproductive rights in the country ahead of the Supreme Court reconvening on Oct. 4.
"Today, we join women and men across the country to ensure that our right to a safe, legal abortion is protected," said Ximena Francella, co-leader of Indivisible New Rochelle and the co-chair of Hispanic Democrats of Westchester. "We demand dignity and respect."
Tasha Young, a community activist and member of the Westchester Women's Agenda and the Westchester Black Women's Political Caucus, shared in her remarks that 77 percent of Americans don't want to see Roe v. Wade overturned, despite increasing attempts from both conservative states and politicians to reverse the landmark 1973 decision.
"There is no state in the country where banning abortion is popular," Young said. "Yet since 2011, more than 480 abortion restrictions have been enacted in states making abortion inaccessible for people with low income and Black and brown people already forced to navigate a legacy of racist and discriminatory systems."
In addressing the crowd, Cheryl Brannan, founder of Sister for Sister International, spoke about access to reproductive health care, Black maternal mortality rates and voting rights — and the interconnected nature between them all.
"There is a relationship between voter suppression and reproductive suppression," Brannan said, underscoring the importance of getting the John Lewis Voting Rights Act passed.
Congressman Mondaire Jones (D-17) praised Speaker of the House Nancy Pelosi's leadership in passing the Women's Health Protection Act and spoke about the Supreme Court's current makeup, which is set to hear arguments on Mississippi's ban on abortion after 15 weeks of pregnancy — a direct challenge to Roe v. Wade — on Dec. 1.
"Of course, the reason we are here is that we know the Supreme Court of the United States, that far-right 6-3 supermajority, has shown itself not only to be hostile to democracy but to be hostile to the laws that even Congress enacts," Jones said, sharing that the Judiciary Act of 2021, which he introduced in April, looks to add four seats to the Supreme Court.
"We must restore balance to the Court, and we must salvage reproductive freedom for everyone," Jones said.
Congressman Jamaal Bowman (D-16) said that Jones' bill to expand the Supreme Court is exactly what is needed right now.
"This conservative Supreme Court will uphold what happens in Texas and will uphold what happens across the country if we don't do something about it," Bowman said.
Bowman continued that the fight isn't just about reproductive rights, but it's also about equal pay, the maternal health and maternal morbidity crisis for Black women and systemic racism in the health care system.
"In the dead of the night, the Supreme Court failed millions of Texans and turned back on 50 years of precedent, rendering Roe v. Wade practically meaningless in Texas," Vincent Russell, President and CEO of Planned Parenthood Hudson Peconic, said, underscoring that BIPOC individuals, those with low incomes and people in rural areas will be most drastically impacted by the six-week abortion ban in the state.
"This is the loudest alarm yet that abortion rights are in grave danger in Texas and across the country," Russell said. "This bill is extreme and is part of a national agenda and access to abortion in this country."
New York State Senator Alessandra Biaggi (D-35) highlighted that New York is not only a reproductive sanctuary state but also a place that other states look to for guidance, leadership and safety. Biaggi said passing Senate Bill S758, which would establish an abortion access fund in New York and provide funds to make abortion not only a right but also accessible for all.
"It is essential, and it is what New York can do next," Biaggi said.
Small groups of pro-life counter-protesters were also in attendance at the rally, standing on the outskirts of the crowd. But they were significantly outnumbered by those there to show their support for safe, legal access to abortion.