Hudson Valley Weather Calendar Continues to Support Children's Causes
News Based on facts, either observed and verified directly by the reporter, or reported and verified from knowledgeable sources.
We are part of The Trust Project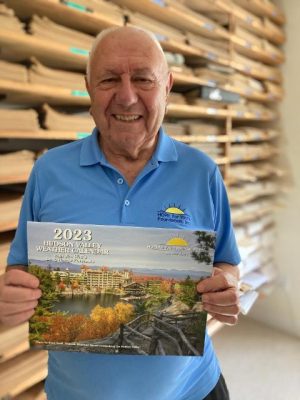 Ever since a major hurricane ripped through Long Island in 1944, Jim Witt and the weather have been an inseparable pair.
Intrigued by the strength of that storm, which caused water to seep through his family's home in Queens, Witt began his lifelong journey of tracking the weather and making forecasts – a hobby that led 38 years ago to the creation of the Hope for Youth Foundation and the Hudson Valley Weather Calendar.
"I just learned by myself. I have no formal training in meteorology," Witt said last week from his Cold Spring home. "It's an amazing thing that has happened. I get up in the morning and I'm excited. I'm proud of what we do."
Witt, a popular on-air personality at WHUD radio for the last 50 years, was a teacher and chairman of the Science Department at Lakeland High School from 1962 to 1977. He was also a faculty member at Columbia University where he directed the weather program for Columbia and the National Aeronautics and Space Administration (NASA).
Several of Witt's former students at Lakeland, where he ran the Weather Club, have channeled their meteorology education into careers. One student is executive vice president of AccuWeather. Another is the head forecaster for NASA. A third is director of research for the National Hurricane Center. His most famous student is New York City weatherman Irv "Mr. G" Gikofsky.
But Witt's proudest accomplishment is, by far, his work with the Hope for Youth Foundation, which provides physical, emotional, educational or enrichment support to children in the Hudson Valley. His efforts have helped raise almost $6 million for children's organizations in the region.
The first year he produced the calendar, which was black and white, 1,000 copies were printed and $1,000 was raised for Friends of Karen.
Last year, 18,000 color calendars were printed, raising $236,000.
"It's a year-long project. Last year we ran out (of calendars)," Witt said. "Everything that comes in goes to the kids. Some of the kids we help will never say a word or take a step."
Besides stunning images submitted by about 50 photographers who vie for exposure, the 15-month calendar features Witt's long-range weather forecasts that include some stormy predictions that extend to 2032.
Witt said a Somers resident has been keeping track of his forecasts since 1986 and Witt's precipitation predictions have compiled about a 90 percent accuracy rate over that span.
In addition to supporting children's organizations, since 1996 Witt has given out seven annual $5,000 scholarships to graduating seniors in local high schools.
Witt is currently making appearances in the region autographing and selling the calendars, which cost $10 apiece.
Anyone interested in purchasing a calendar or finding out what retailers carry the calendar can visit www.hfyf.org.