Hudson Stage's Lights Will Be 'Shining' Brightly With Irish Play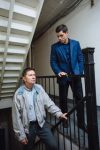 Derry Woodhouse wasn't necessarily looking for a new role late this summer when he stopped in at the Actors Equity building near Times Square to see if anything interesting was going on.
Woodhouse, who has consistently found acting work since moving to the United States from Ireland about 20 years ago, noticed a listing for upcoming auditions for "Shining City," a play written by Irish playwright Conor McPherson that he saw when it first hit the stage. When Woodhouse saw the listing, he knew he had to go for the part.
"I wasn't planning an audition and didn't know they were holding these auditions for 'Shining City,'" Woodhouse said. "But I loved the play. I saw it in London in 2004, the original cast. It left an impression on me and said I'd love to do it sometime."
That time will begin this Friday night, when Woodhouse will be part of the four-member cast in Hudson Stage's production opening at Whippoorwill Hall in Armonk. It is the first of nine performances scheduled for Fridays, Saturdays and Sundays through Oct. 28.
Of course, it didn't hurt Woodhouse's chances that the parts for "Shining City," including his role as John, requires Irish accents. Interestingly, Woodhouse is the only native-born Irish actor in the cast. It also helped that Woodhouse has been a big fan of the work of the highly prolific McPherson.
In "Shining City," John sees a therapist following his wife's passing, claiming that he sees his dead wife in his house. The therapist, Ian, a former priest who has recently left the church and has opened his own practice, is battling his own demons.
"He's kind of has an obsession with the dead," Woodhouse said of his character.  "It's beautiful. It's a very touching, moving piece. It's a great play with great actors and we're very happy to be doing this."
Hudson Stage producer Denise Bessette said the company continually searches to find different types of stories to feature for each of its main stage productions. With Hudson Stage in its 19th season, and two full productions scheduled each season, it can be a challenge to find engaging plays that can be executed by a relatively small company, Bessette said.
Last spring during the production of "The Hound of the Baskervilles," one of the cast members mentioned "Shining City" is something that Hudson Stage should consider, she said.
Bessette said Irish theater in general has long held a reputation as very rich, containing strong and very human storylines.
"Conor McPherson is one of the most highly respected Irish playwrights, so it's kind of a no-brainer," Bessette said. "When you read something from him, it's so strong. It was obvious is was a strong contender from the beginning."
Woodhouse, originally from Limerick, Ireland, started his acting career in Greece and Turkey with his reenactment of "The Odyssey." When he came to the U.S., he hooked up with Irish theater companies in the Boston area, where he has spent much of his time.
Recently, he played the role of Jesus in Bernard McMullen's hit comedy, "Return of the Wine Maker" in both Ireland and Boston.
Woodhouse said he's always gravitated to the stage, and with roles like John in "Shining City," it's fun to work.
"It's a great way of losing yourself, the excitement of it, taking a journey," he said. "I suppose the excitement of it and the fact that you can step out and become someone else, that's always appealed to me, and being Irish I've always been good at storytelling."
"Shining City" is directed by Dan Foster, one of Hudson Stage's three producers. It also stars Hamish Allan-Headley, Gemma Baird and Michael Jennings Mahoney. In addition to this Friday evening, performances will be held on Oct. 14, 15, 20, 21, 22, 27 and 28. Show times on Friday and Saturday evenings are 8 p.m. and 3 p.m. on Sundays. There will also be a matinee on the Oct. 28. Tickets are $40; $35 for seniors (65 and up) and students.
For tickets and more information, visit www.hudsonstage.com.