Hud Hud Goes Dutch on Winning: Coach & Players Split Share
We are part of The Trust Project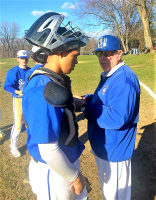 I've known Hen Hud baseball Coach Dutch Pritts so long I feel as though I went to high school with him, though the Dutchman was a generation before me. But when I first burst on to the Section 1 baseball scene as a cub scribe back in 1989, Coach Pritts was one of the first guys to make me feel welcomed, and I'll never forget the way he made me feel a big part of everything Hen Hud while I cut my teeth at the now-obsolete North County News.
In these truly sad days on Section 1 diamonds – what with the recent passing of two loveable coaches (Eastchester's Dom Cecere and Ossining's Bill Casey) – it sure is great to see Dutch Pritts putting out a product the old blue-collar Sailors would be proud of.
Dutch Pritts is about as much a Sailor as 17th century explorer Hendrick Hudson himself was, adapting to the changing currents as well as any old-school coach in the region has. Pritts has been on the Sailor sideline in more capacities than most; assistant coach to Paul Natale for decades, including a 2000 Section 1 championship season, a sidekick to former venerable pitching Coach Ed Lent, a scorekeeper in the winter months, a security dude in a yellow jacket opposite Patti Dias-Peters for years, a dad and coach to sons Michael and Doug, and now head coach of the hottest baseball team in the section.
"Coach Pritts has been a staple of Hen Hud athletics for the past few decades," Hen Hud A.D. Tommy Baker said. "His knowledge of game and ability to teach are phenomenal. He loves the kids and loves to coach them, and we love having him around."
Through Sunday, Pritts' Class A Sailors (6-0) were unblemished, with a couple of feisty wins over Lourdes and another against reigning Section 1 Class A champion John Jay CR: Plus, a combined no-hitter from hurlers Nick Caruso, who started and went into the sixth, reliever Dan Regueiro and closer Jack Attinelly, who shut the door on Ossining in a 3-0 win last Thursday.
There's nothing like a grizzled, veteran unit hell-bent on ridding themselves of the sour taste of sudden, unexpected defeat. Seeded No.1 in last year's playoffs with a 16-4 record, the Sailors were knocked out in the first round by upstart Brewster, so the 2017 campaign is one of serious unfinished business, and the Sailors are loving every minute under the legendary coach who essentially coined the phrase, "It's a great day to be a Sailor!"
"Coach Pritts gives us a great deal of leeway to be athletes, which probably contributes to a great deal of our success," said Sailor OF Nick Cunningham (2-for-3, 2B, RBI, runs vs. Ossining). "He has been around, not only baseball, but sports in general, forever. He likes to say he's been around 200 years, but I like to think it's more like 300."
Kid's right, ya know: It does some more like 300, which brings me back to my initial point; that it seems like I've known Pritts, who loves to bust out trivia to make himself look smart, forever.
"Though he likes to have fun, he has no problem putting us in our place when we screw up," Cunningham said. "If you make a base-running mistake, he will holler at you the whole way back to the dugout."
Whether he's hooting and hollering or testing the mental minutiae of his players, affable Dutch Pritts is easy to root for, and that's why I'm pulling for Hen Hud to win its first title since the turn of the century, second since 1977…
Can somebody please tell the alt-left liberals that their Carter's have worn out, and it's time to put your big-boy pants on and stop with this resistance nonsense: It's not helping our country one bit.