News Based on facts, either observed and verified directly by the reporter, or reported and verified from knowledgeable sources.
Hometown Heroes Banner Honors Tromblee in Mahopac
We are part of The Trust Project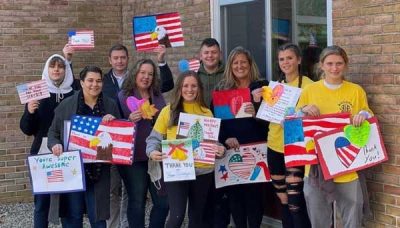 Just in time for Memorial Day, the Mahopac High School Leo's Club and its parent club, the Mahopac Lions, have honored Michael Tromblee with a Hometown Heroes Banner.
Tromblee, who served in the U.S. Air Force from 1997-2001, serves as co-advisor to the Leo's. He is Assistant Superintendent of Curriculum, Instruction and Professional Learning for the Mahopac Central School District.
"The students decided to get Michael a special thank you for his extraordinary efforts in helping grow our Leo Club and for his service to our country," said fellow co-advisor Farrah Ballard, who serves in the position along with Danielle Whitmarsh.
The Military Tribute Banner that features Tromblee is hung across from Red Mills Market on Route 6N in Mahopac Falls. Banners honoring Veterans, Active-Duty, Reserve and National Guard Members can be purchased by families, friends, colleagues and supporters and line roads throughout Putnam County.
The Leo's Club was chartered in September 2020 and grew to 70 members strong during the pandemic. This past year they accomplished:
United for the Troops fundraising and packed care packages
Art from the Heart – Mahopac school district students create artwork gifted to deployed military and Putnam Hospital cardiac patients to brighten their day. Hosted three events to date.
Easter Egg Hunt Fundraiser
Earth Day Clean Up
Thank a school nurse
Donated to school Thanksgiving dinner, Pac Love, LLS, Relay for Life, Women's Resource Center, adopted a student for junior prom, etc.