Homes in Cortlandt Damaged During Thunderstorms
We are part of The Trust Project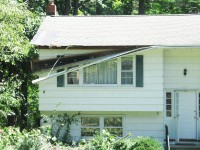 Several homes in the Continental Village section of Cortlandt were among the hardest hit during a fast moving thunderstorm last week that packed a destructive punch.
More than 380 homes were without electricity for about 10 hours after intense rain and wind swept through the area at about 2:30 p.m. last Wednesday. Many trees were no match for Mother Nature, with branches breaking like toothpicks.
On Highland Avenue, large trees crashed into the rooftops of three homes and took down power lines, leaving roads impassable.
Crews from Con Edison, Verizon, Cablevision and the Town of Cortlandt worked for several days to clear the debris and reattach utility poles and wires. Some Con Edison employees who have been on strike showed up on Friday to protest for a few hours.
Con Edison reported other outages in some parts of Mohegan Lake as well.
Earlier last week, during the most recent heatwave of the summer, the Town of Cortlandt opened the Muriel Morabito Community Center for residents in need of shelter or a place to stay cool. The shelter, which was staffed by town employees, stayed open until 10 a.m. Thursday.