Second Holy Innocents Priest Tests Positive for COVID-19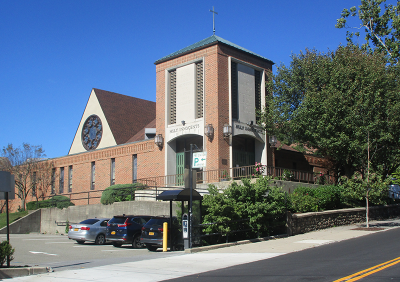 A second priest at Holy Innocents Church in Pleasantville has tested positive for COVID-19 and as many as 400 people may have been exposed requiring anyone who attended several recent services and a First Communion to quarantine, county officials said Friday.
The Westchester County Department of Health advised that anyone who attended morning Mass on Aug. 24 and 26, the Aug. 29 First Communion ceremonies and all Masses last Sunday, Aug. 30 to quarantine. Individuals must stay isolated for two weeks from the date that they attended any of those events regardless of whether they have had a negative COVID-19 test, County Health Commissioner Dr. Sherlita Amler said during a Friday afternoon briefing in White Plains.
On Thursday, the county had originally mentioned that the events included morning Mass on Aug. 25 but that was corrected to include Aug. 26.
Testing for anyone who attended any of the events during those four days in question is available this weekend at a drive-through site at Phelps Hospital, located at 701 N. Broadway in Sleepy Hollow on Saturday, Sunday or Monday from 9 a.m. to 4:30 p.m., Amler said. No appointment is necessary.
On Thursday, it was revealed that one of the parish's three priests, Fr. Luke Hoyt, and an unidentified staff member at the church at 431 Bedford Rd. had tested positive. It was learned on Friday that Fr. Frank Sutman also tested positive for COVID-19.
Contact tracing has been put into place and the church will remain closed for services and office hours until at least next Friday, Sept. 11, according to Holy Innocents' website.
Amler and County Executive George Latimer said it is estimated that about 400 people may have attended services and the ceremony. But Amler said she is hopeful that with protocols being followed, including testing, tracing and quarantining, the number of transmissions can be kept to a minimum.
"We know that people were exposed. We have an opportunity to keep this at very low numbers if people do the right thing and do what is responsible," Amler said. "So that's why we're having this conversation today and we hope that everyone will encourage the people in their family that they know attended to be responsible in their actions."
"We want to monitor it so that we try to manage it, and Dr. Amler will say, we're using contact tracing to try to identify the parameters of the contagion so that it does not spread," Latimer added.
A joint statement on Thursday from Pleasantville Superintendent of Schools Mary Fox-Alter, Pleasantville Mayor Peter Scherer and Village Administrator Eric Morrissey indicated that those who attended Mass and the First Communion ceremonies practiced the necessary health protocols, including wearing masks, social distancing and hand hygiene.
Fox-Alter said Friday that a "relatively low number" of students from the Pleasantville and Mount Pleasant school districts attended last Saturday's First Communion ceremonies, although it wasn't immediately known how many other students may have been exposed at the various Masses.
She said Pleasantville plans to begin its school year next Thursday as scheduled with a hybrid model. Students will attend two days of classes in person with remote learning the other days of the week. The model has flexibility to allow any students who need to quarantine to switch to online instruction only.
"The model is built to absorb bumps in the road as we're going to go through periods" of uncertainty, Fox-Alter said.
The county is also working closely with the church and the Archdiocese of New York. Hoyt issued a statement Friday thanking officials and the community for responding and cooperating.
"To all our parishioners and the entire village community, I want to express my personal gratitude to everyone who has been able to come forward and help with this situation," Hoyt's statement read. "We look forward to continuing to work with the health department to maintain everyone's safety. Please know that ever since the beginning of the pandemic we have been following every safety protocol that has been required of us and we will continue to do so. We will continue to do our best to keep everyone informed as we continue to receive new information. Please do not hesitate to let us know if there's anything we can offer during this challenging time."
Anyone with questions, can contact the state Department of Health hotline at 888-364-3065. The public can call that same number to inquire about testing. For those under self-quarantine as well as medical providers seeking information, call 866-588-0195.