Hochul, Local Communities Gear Up for Possible Housing Fight
News Based on facts, either observed and verified directly by the reporter, or reported and verified from knowledgeable sources.
We are part of The Trust Project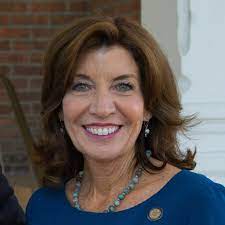 Some local governments are preparing for another showdown with Gov. Kathy Hochul over housing after she warned last week that municipalities must hit certain benchmarks in developing new units, including communities with commuter rail lines.
During her State of the State address in Albany last Tuesday, Hochul announced her upcoming plan, the New York Housing Compact, which seeks to build 800,000 units of new housing over the next 10 years.
Hochul said the state has created about 1.2 million jobs over the past decade but has built only about 400,000 new units. The dearth of new housing has driven up prices making it difficult for moderate-income families to remain in New York.
The governor specifically called out Westchester, Putnam, Nassau and Suffolk counties for granting fewer building permits per capita between 2010 and 2018 than virtually all counties in comparable high-priced suburbs in southern California, Massachusetts, New Jersey, Connecticut and northern Virginia.
"Front and center are the local land use policies that are the most restrictive in the nation," Hochul charged. "Through zoning, local communities hold enormous power to block growth. Between full-on bans of multifamily homes and onerous zoning and approvals processes, they make it difficult – even impossible – to build new homes."
What could produce major battles with some communities, is Hochul's proposal to rezone property within a half-mile radius of any MTA station to allow for multifamily housing to force the creation of transit-oriented development.
North Castle Supervisor Michael Schiliro, who was one of the leading local critics of last year's accessory dwelling unit proposal outlined by the governor in her originally proposed budget and previously introduced by state Sen. Peter Harckham (D-Lewisboro), said the idea of the state imposing mandated zoning requirements on municipalities runs counter to New York as a home rule state.
North Castle, like many other communities in the area, has affordable housing legislation and accessory dwelling unit regulations that have produced more moderately-priced housing.
While communities such as White Plains, Yonkers and Pleasantville multifamily development near train stations may have successfully integrated the housing into their downtowns, that would not fly in North Castle's hamlet of North White Plains.
"It's just not going to work and we're not going to have it, but we're going to fight it like heck," Schiliro said last week.
Although many of the details have yet to be released, Hochul plans to require every upstate municipality to have a target of growing their housing stock by 1 percent every three years. Downstate communities will be required to add 3 percent every three years.
Several other elected officials said they wanted to get more details before commenting on the governor's latest proposal. Harckham said that more specifics should be forthcoming when the first draft of the Fiscal Year 2024 budget is released late this month or in early February.
He said in much of the northern part of his district in northern Westchester and Putnam County, there isn't the water or sewer capabilities to have the type of development that could be triggered by multifamily housing a half-mile around every train station.
"I know some of our hamlets and our towns would welcome a little more development if they could get the infrastructure that they've been pleading for for decades, and some of our municipalities feel like they're built out from the train station," Harckham said last Saturday morning during a forum with constituents in Katonah.
"So we have to see what flexibility is in there, but the challenge that we do face is we have not kept pace with the number of jobs created in terms of housing."
A staff member for State Sen. Shelley Mayer (D-Yonkers) said she was refraining from comment for the moment until more details are released by the governor.
In her e-mail report to the community last Thursday, New Castle Supervisor Lisa Katz said she was surprised to hear that housing proposals are likely to be back in the governor's budget, but it would likely not be palatable to many local officials.
"While the actual legislation has not yet been made available, we are certain that these proposals will once again try to override Municipal Home Rule and local zoning powers," Katz stated. "I have already reached out to our state representatives and will be attending meetings on these issues with other elected officials."
Hochul said she understood her proposals are ambitious but she appeared determined to make progress on the housing issue.
"Today, we say no more delay. No more waiting for someone else to fix this problem," Hochul said in her address. "Housing is a human right. Ensuring enough housing is built is how we protect that right."