Hillary's Chappaqua Friends Celebrate Historic Nomination
We are part of The Trust Project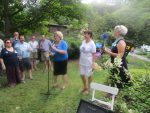 Few Americans can claim that their neighbor and fellow town resident has run for president of the United States.
For the grassroots group Chappaqua Friends of Hill, support for Democratic presidential nominee Hillary Clinton goes beyond her Chappaqua address and that of former president Bill Clinton. Members pointed to how Hillary Clinton's life has served as inspiration for their own.
"She gave me an opportunity at 59 (years old) that very few people get," said Geri Shapiro, a county resident who served as a volunteer on Clinton's first Senate campaign and was hired as her Westchester regional director after her election.
Last Saturday more than 100 Chappaqua Friends of Hill members held a celebratory event as part of a "Hillapalooza" weekend to recognize Clinton's historic achievement as the first woman to be a major party's nominee for president. With three months before Election Day, the gathering and barbecue also served to gear up volunteers for the campaign that members hope will culminate in Clinton's election as the country's 45th president.
Dawn Greenberg, who founded the now 900-member group in April 2015, said following the Democratic National Convention in Philadelphia enrollment in the group soared as more people tune into the campaign.
Despite recent polls trending in Clinton's favor there will be no complacency on the group's part, Greenberg vowed. On Sunday, members took a bus from Manhattan to campaign in Pennsylvania, one of a handful of critical swing states. Other volunteer efforts will include additional trips to Philadelphia and surrounding counties, writing at least 10,000 letters to women in North Carolina, alerting the public how some caregivers in New York state may vote by paper ballot, registration drives and get-out-the-vote strategies.
On Sunday, as part of the weekend, Tracy Stein, another group member, organized a volunteer training session at her Chappaqua home for local college students and young adults.
"We're going to hit the ground hard," Greenberg said. "I don't trust the polls. It's such an unpredictable year anything can happen and there's going to be an October surprise, on both sides, so anything can happen."
While Clinton was out on the campaign trail last weekend, she did send a letter to the group's leaders to read.
"We believe in a simple but powerful idea – we are stronger together and can solve our problems when we work together," she wrote.
While many members are Democrats who align politically with the former secretary of state, it has also been the Clintons' bond with the community since they moved into Chappaqua following the completion of Bill Clinton's presidency that has impressed locals. Residents who spend enough time downtown have stories of their encounters with the famous couple.
Kristin Lore, a 14-year resident and Chappaqua Friends of Hill member, said she has repeatedly seen the Clintons at many of the same businesses she frequents and they take time to stop and talk to merchants and customers.
"They're so warm and personable," Lore said. "Hillary, I think that's part of what helps us to understand her better, her warmth comes through so much when you're like one to one with her or in smaller groups and I think that's just what has helped us rally around her."
Shapiro said that as someone who worked for Clinton, she showed an unusual amount of concern for her employees.
"She was very into intellectual capital," she said. "Secondly, she empowered her employees, she gave you the tools to do the job, and the other thing is the way she cared for her employees. I was older, some of them were younger, but I certainly had some issues like many people my age and she was always interested, she always wanted to be helpful. Her resiliency is astonishing to me."
Democratic state Senate candidate Ali Boak said that for many women Clinton has been someone to look up to, particularly for those who want to get involved in politics. Various levels of government still lack many women representatives, including the state Senate in Albany where currently only 12 of 63 senators are women.
"She's really been a role model for people like me since I was young," Boak said. "I'm just happy to be running with her and I think this should be the year of the woman, not only nationally but at the state level."
Visit Chappaqua Friends of Hill's Facebook page for more information on the group.