High School Friends Make Bagels a Way of Life
News Based on facts, either observed and verified directly by the reporter, or reported and verified from knowledgeable sources.
We are part of The Trust Project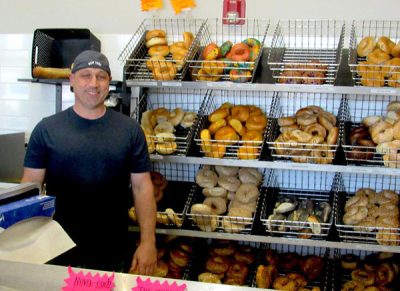 When Dennis Antonucci and his good friend Phil Visconti were 23, they decided to buy JV Hot Bagels on Lee Boulevard in Jefferson Valley. Both had worked there while attending Lakeland High School. They learned the nuts and bolts of the business and how to make it a success.
Six years later, in 1998, when JV Hot Bagels was for sale, the two buddies borrowed almost $400,000 to buy it, determined to keep the popular store a success.
"I can't believe we went into so much debt and we were so young," Antonucci said. "But it worked out."
Just a few months ago, Antonucci and Visconti purchased another bagel shop, this one at the Towne Centre at Somers in Baldwin Place.
"We're still working out all the kinks," Antonucci said. "We want to make sure everything is placed to make it easier for the customer."
Over the past 25 years, Antonucci and Visconti have been adding to their food establishment portfolio. In 2004 they purchased an empty storefront in a strip mall in Shrub Oak and, riding on the success of their shop in Jefferson Valley, named the new store JV Hot Bagels. Eight years later, two people who worked for them bought it and have owned it since.
Around 2010, Antonucci built and ran a deli-supermarket in Carmel, which he sold about a year ago.
Today they own JV Hot Bagels in Jefferson Valley and the just-purchased store in Baldwin Place in February.
"We've always been at the right place at the right time," Antonucci said about buying and selling their shops. "People from Mahopac and Somers were used to buying their bagels from our shop in Jefferson Valley. We're hearing enthusiastically 'thank yous' for being so much closer. Our mornings are packed."
The brightly lit shop has a large seating area and offers homemade bagels with several spreads, assorted muffins and cookies from their bakery, fresh salads and sandwiches.
"The key to our success is making everything fresh right here," Antonucci explained. "The bagels are made from scratch as are our baked goods. If selling freshly-made food is what you do, you have to do it right."
The new JV Hot Bagels at the Towne Centre at Somers is open Monday through Friday 5:30 a.m. to 4 p.m. and Saturday and Sundays from 6:30 a.m. to 3 p.m.