Heroin Use on the Rise in Local Communities
We are part of The Trust Project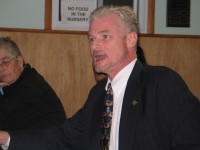 Heroin use is an epidemic in northern Westchester and surrounding communities, starting as young as middle school students.
"I don't even have an answer any more. You don't have to look far. It's here," said Robert Willis, who helped form a group in Cortlandt in 2010 to help combat substance abuse, during a forum at the Reformed Church of Cortlandtown in Montrose last week.
"For the last two years we've seen it coming. It's at your door," he remarked. "Today you can go right down your block. It's your neighbor. It's the guy at the deli. We've lost more people to heroin than the war in Iraq."
Since December, at least 30 people in northern Westchester and Putnam have been arrested for possession of heroin. Since 2011, Westchester County Police Detective William Mauro said 90 people in Peekskill have been charged with selling drugs.
"There's a lot of heroin out there," Mauro said. "Heroin is cheaper and it's a quicker high. You don't see as much crack and cocaine as you used to. We're seeing a lot more prescription pills. Marijuana is always the gateway drug. It's not so easy as you might think to catch these people and put them in jail."
In attendance at the forum, which was attended by about 40 onlookers, were Lou and Carol Christiansen and Steve and Susan Salomone, who both lost sons to drug addiction in 2012 and started a community action organization called Drug Crisis In Our Backyard, which provides resources and support to individuals and families affected by drugs.
"This is a disease. This is not a behavioral problem," Steve Salomone said. "It's an addiction. We're not dealing with the problem. We were amazed at the number of people who had a problem in their families. It's in our houses. Don't think it's not going to happen to you. It happens to everyone."
Dr. Debbie Aikens, a professor at Mercy College, said opiates have been a part of society for 5,000 years, and as long as someone wants drugs, someone else will be willing and able to provide them.
"This is simple supply and demand. The problem is much bigger than we think," Aikens said. "You can't treat the drug. You have to treat the problem. Heroin is not a drug that just started. We've been abusing heroin for quite some time. The drugs are the loss of our spirit. All of our power is in ourselves."
Dr. Maryann Elberth, a substance abuse program manager at the VA Hospital in Montrose, said tackling the heroin problem will take a community effort.
"It's not a simple fix. It's a multifaceted problem," she said. "Not only is it an illness, it's a business. Collectively and collaboratively we can make a difference on what kind of services there are and how we can intervene. You need to be empowered. It's the same thing as people who have an addiction and are spiraling out of control. We have to try to treat that cycle or stop the cycle from happening."