Here Comes Somers, Tuskers Stomp Lakeland, 3-0, Win HV Cup
News Based on facts, either observed and verified directly by the reporter, or reported and verified from knowledgeable sources.
We are part of The Trust Project
By Ray Gallagher, Examiner Sports Editor @Directrays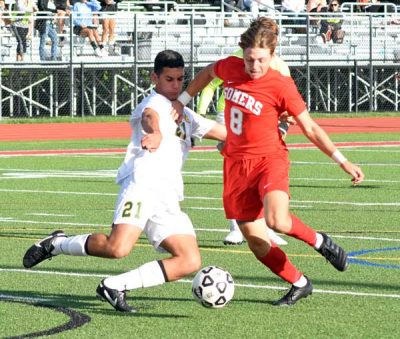 LAKELAND Coach Tim Hourahan and SOMERS Coach Brian Lanzetta have done as much as anybody to promote the great game of fútbol within the Section 1 spectrum and their respective feeder programs, and to see their teams go head-to-head last Thursday at Tusker Nation was a spectacle to behold. Everything these two coaches do for Section 1 soccer is not just done for their own. It's done for the good of the game and often for the good of charity.
Reigning NYS Class A champion Somers and state-ranked (No.20) Lakeland hooked it up and put the newly-initiated Hudson Valley Cup on the line where Somers stood the test of time in a 3-0 win over the visiting Hornets.
State titles come with a bullseye the ensuing year, and a youthful Somers squad has gotten everyone's best effort from the get-go, resulting in a subpar start by Somers' standards.
Somers jumped out to a 1-0 lead 28:30 of the first half when Edmund Cleary scored out of nowhere to steal Lakeland's early momentum. Brady Leitner put the Tuskers up 2-0 after collecting a rebound off the post at 12:34 of the first half. Lakeland complained the referees missed a handball on the push forward but it went for naught. Leitner, a junior and kid brother to All-NYS M Bennet Leitner (now at Fordham), then pushed forward and drew of slew of Lakeland defenders, which opened things up for Matthew "Little Dipper" D'Ippolito, the the younger bro of NYS Gatorade Player of the Year, Daniel D'Ippolito (also at Fordham).
"I'm pumped for these young kids," said Lanzetta, who has guided Somers (4-4) to a pair of state titles since 2016. "These boys have worked hard."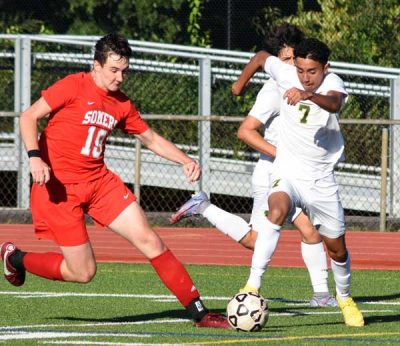 Lakeland (6-2-1) had some early chances but for the second game in a row against the upper crust (Yorktown), the Hornets did not capitalize.
"For the second game in a row against a top team on the road we had a chance to take an early lead and didn't," Hourahan admitted. "Somers and Yorktown are ruthless, and I would say we are on the fly trying to figure out how to win big games. We had some great moments of play for sure."
Lakeland did post a quality W when the Hornets erased a 1-0 deficit and secured a 3-2 win over Class B power BYRAM HILLS. Bobcat senior captain Jesse Goldstein put a PK goal up for a 1-0 Bobcat lead. However, Hornets Michael 'M-Rod' Rodriguez, Derek Jaramillo and Josh Seligson scored the next three. Lakeland senior Bryan Jaramillo assisted on two scores and Yusuf Elzgolby set up another. Lakeland saw the return of talented sophomore G Oban Rader (4 saves) in goal and the Bobcats saw G Will Harrison post 10 saves.
Erik Cipriano brought Coach Matty Allen's Bobcats (4-3-1), who will surely find themselves and challenge deep into the Class B playoffs, within a goal in the closing seconds.
"I think we have a lot of new players and we are still working out the kinks," Allen said. "Right now, we seem to be playing well every other game and haven't developed much consistency yet. This will hopefully come with time and practice. I'm happy with the work ethic, and I think the boys are working together toward a goal. With that said, we are a bit far away from the Lakelands and the Yorktowns of the world. I don't see much of a difference between those squads and the top squads of Class B to be honest. I think Edgemont, Bronxville, Ardsley and Briarcliff and other Class B teams are just as feisty and strong as the top A teams."
Somers got things rolling earlier in the week in a 7-0 win over Yonkers where sophomore Brady Leitner had a career game with two goals and two assists. Alex Aguilar (2G), Edmund Cleary (1G, 1A), Lindon Ulaj and Liam Healy each scored a goal.
Aidan Heffner scored twice in Byram Hills' 6-0 win over Yonkers. Chris Amenedo, Ryan Nichols, Max Miller and Cian Byrd all scored for the Bobcats while Erik Cipriano set up three tallies and Jesse Goldstein assisted on two.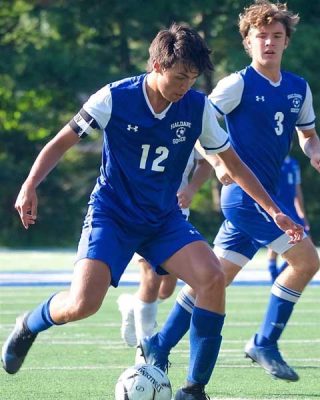 MAHOPAC's Matt Silkowski's second goal of the game was the talk of the town when, with two minutes left in the second overtime, he sent Class AA rival CARMEL home with a 2-1 loss. Dylan Tyberg had the assist for a Mahopac club that has already exceeded expectations at 4-4 after Thursday's 4-0 loss to visiting, state-ranked (No.18) Arlington. Ram senior Neel Walia assisted on Alex Kozlowicz's goal with seven minutes to play. Pac keeper T.J. Walsh made eight saves while Joe Galeano had five saves for the Rams (4-6-1).
GREELEY's Matthew Rodriguez scored twice in the Quakers 4-2 win over state-ranked (No.16) Class AA OSSINING, and then set up Justin Xiang to provide a 3-1 lead. Alex Lenaghan converted a PK, his second of the game, to get the Pride within a goal, but Jesse LaRosa bagged a PK for the final margin.
"It's a big win for us," Quaker Coach Camp Shropsire admitted. "Matthew had a great game. He is a great competitor, who plays with passion and determination. We are happy he is back. He was at IMG academy in Florida last year."
The Quakers (6-1-1) followed that up with an 8-1 win over Saunders where Bryce Bernbach, Daniel Fioretti (2G), Justin Xiang (2G), Eric Carnes, Gordon Walsh, Jeremy Taber, Ryder Goodman and Josh Hametz all found the back of the net.
We told you last week not to sleep on PEEKSKILL, and we should have warned you not to play a man down on the Red Devils (5-2-1) as well, and state-ranked (No.3) YORKTOWN nearly paid the price in a 1-0 win overtime triumph of Peekskill. Husker David Beitler cashed in with under 30 seconds left in the first overtime, taking a feed from Lucas Buono. The undefeated Huskers (9-0) finished the game a man down and had a goal disallowed. Husker keeper J.P. Frucco got the shutout, making three saves, securing Yorktown's sixth shutout of the year.
Yorktown then watched four different players tally goals in a 4-1 win over Riverside, breaking open a 1-0 halftime score off goals from Ryan Tomeny (assisted by Gabe Hughes), Michael Duffy (assisted by David Beitler), Adrian Pjetri (assisted by Beitler) and Brendon Mooney (assisted by Duffy).
Peekskill followed up to Yorktown with a 1-1 tie against Ardsley when Red Devil Joe Uzhca nailed a PK at 10:00 of 1st half and Peekskill G Joe Guanuche (7 saves) stood tall between the pipes.
In PANAS' 7-0 win over Poughkeepsie, Danny Coello's four-point night (2G, 2A) was further enhanced when Nick Gutierrez, Alex Russo, Jefferson Velasquez, Thomas Piriz and Alex Guevara tacked on. Koky Duarte set up two tallies. Perhaps more impressive for Panas was a 2-1 loss to state-ranked (No.11) Tappan Zee. Ronal Das scored for the Panthers (3-6).
In HEN HUD's 6-1 win over Roosevelt, Sailor Charley Corrado (2G, 2A) had a career day and
John O'Connor scored twice. Helmer Herrera and Bixby Piccolo Hill both scored for the Sailors (2-7).
FOX LANE (3-6) had its biggest win of the season, 2-0 over OSSINING, behind goals from Dennis Areguta (1A) and Zach Foltz. Fox G Summerville Beckford (12 saves) was busy while posting the shutout for the improving Foxes.
"It's definitely a great program win,' Fox Lane boss Mike Tomassi said. "Ossining is one of the best programs in Section 1. We are building something special at Fox Lane. We are not where we want to be but it's about competing and getting better daily. Over the last two years we have made strides to becoming a respectable program. Our hope is to build on this win. We play in a tough league and we don't get any nights off.
The Pride (6-3-1) have hit a bit of a rough patch.
CLASS B/C
In a battle between two of the lower 40 powers, VALHALLA bested PLEASANTVILLE, 1-0, when Luka Pandzic sent Dimitri Tonelli's assist into the back of the net with 27 minutes left in a hotly contested battle. Viking G Leo Dragone (4 saves) cleaned his sheet with a perfect outing. Adam Panek (5 saves) was solid in the loss.
Valhalla Coach Sandro Prosperino was elated that his crew was rewarded with a match win after a grinding stretch.
"We came off a grueling week of four games in six days, playing two league matches that went the full 100 minutes in back-to-back days, and the BroncoFest tournament, going 1-1-2 in the process in those four games," the coach said. "So, starting the week with a league win on the road against a well-coached and always-hungry Pleasantville team is something we're trying to build on. Pleasantville had the better run in the first half, however, we made some adjustments at halftime that our team executed and responded to very well.Thirteen minutes into the second half we scored what would be the game winner and we were able to lock it down for the final 27 minutes of the game to pull out the gutsy 1-0 road win."
The Vikings also celebrated the life of Jason Brand in a 4-0 win over visiting Putnam Valley, who joined the Vikings in a celebratory red-out. This scholarship game has been set up in memory of Jason Robert Brand, Valhalla High School graduate, Class of 2020. Jason was passionate about positivity, loving and enjoying life, and most importantly spending time with his beloved family and friends.
The Vikings made it their mission to show out in his honor, and Ian Silvero (from Julian Amorosa) got things going at the 4-minute mark. Vincent Reyes added a hat trick on goals from Oliver Tecuapetla, Bryan Medina and Tecuapetla. Chris Purchia (from Tecuapetla) also scored for the Vikings (4-3-2). Valhalla G Leo Dragone (3 saves) notched the shutout and G Miguel Diaz made four saves for the Tigers (1-8). Silvero and Purchia scored their first varsity goals.
"What a beautiful day to celebrate Jason Brand," Coach Prosperino said. "We had a large crowd in a sea of red. Our Valhalla boys played with such heart honoring one of their fallen brothers, and a young Putnam Valley team played 80 minutes of no-quit soccer. And their parents/fans were such class acts in joining us in red. I tip my hat to the Putnam Valley community."
BRIARCLIFF's Ethan Klar had a goal and an assist in the Bears' 3-1 win over WESTLAKE, who took a 1-0 lead on an own goal. Emilio Abud-Chalita also scored for the state-ranked (No.5) Bears, who hold the highest Section 1 rank in Class B, ahead of No.19 Edgemont.
Toby Young (3 saves) allowed just one tally to Wildcat Cian Cerro.
State-ranked (No.6) Class C HALDANE crushed rival Tuckahoe, 5-0, on the strength of two goals from Luca van Dommele and one apiece from Clem Grossman, Samuel Vargas and Trajan McCarthy. Grossman (3 assists) had a day to remember.
"With our leader in the back Will Sinffen and Ronan Kiter in Goal we only allowed three goals so far in seven games our defense is always locked in," Haldane Coach Ahmed Dwidar said.
The Blue Devils (8-1) followed up with a 5-0 win over North Salem, who got torched by Ryan Eng Wong (4G) in the Blue Devils' fifth straight win. Clem Grossman (1G, 2A) was also big, and Kiter needed just four saves for his sixth clean sheet of the season.
CLASS AA
WHITE PLAINS went off on Saunders, 9-0, behind eight different goal scores, including
Abraham DeOliveira (2G), Gael Baraldi, Isaiah Mercado Torres, Charles Reid, Ryan Appel, Lucas Antenucci and Rhaymani Alexander.
The Tigers continued to roll in a 2-1 OT triumph of Suffern, who opened the scoring in the 8th minute, but White Plains answered 25 seconds later when Gael Baraldi found Rhaymani Alexander in space for the tying goal.
Suffern took a second lead before White Plains went on the attack in the second half.
"We moved around some pieces and started putting the pressure on,"White Plains Coach Michael Lambert said.
Lucas Antenucci then found Baraldi on the sideline in the 77th minute and the senior captain buried the game tying goal. With 14 seconds left White Plains defended a Suffern free kick and Jair Cano turned the tide and found Rhaymani Alexander, who scored right after the horn expired and the goal was waived off, forcing OT.
"We kept the pressure on in OT, creating several chances," Lambert said.
Cano beat a Suffern defender, who held onto his jersey to pull him down, awarding a free kick to the Tigers (7-3).
"We put an attempt on goal, which was deflected away by the keeper, giving us a corner," Lambert said.
Cano's ensuing corner found Charles Reid, who won an aerial challenge and flicked it forward to Adrian Ramos, who put a shot on net. Baraldi grabbed the rebound and sealed the deal with 2:55 remaining in the second OT.
"We moved a lot of pieces around due to a plethora of injuries," Lambert said. "Our halftime adjustments created a more potent attack. The boys hung in there mentally and battled hard to the end. They prevented a repeat of the Carmel game and had a lot of younger guys step up and step into new roles. This was a big win for the morale of this team."
Editor's Note: Apologies to unrelated Michael and David Rodriguez of Lakeland for referring to them as brothers last week.