News Based on facts, either observed and verified directly by the reporter, or reported and verified from knowledgeable sources.
Hen Hud Muddies Class A Waters; Yorktown Edges Fox Lane
We are part of The Trust Project
By Ray Gallagher, Examiner Sports Editor @Directrays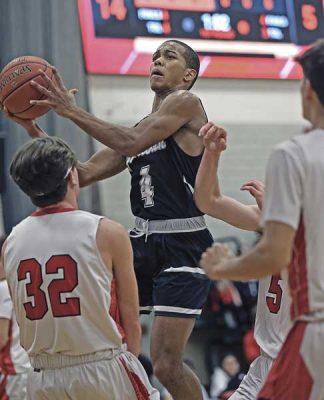 Midterms and weather played a little havoc on last week's Section 1 boys' hoops schedule, but there were plenty of big games played with just two weeks remaining in the regular season of the 2022-23 winter campaign. Hopefully, we're just about ready to roll up on the Westchester County Center #FingersCrossed for what should be a remarkable experience for our local athletes if the county can pin this thing down over the next few weeks and get our student athletes on the floor of the Mecca. Lord knows, our athletes deserve this fabled opportunity and then some after all they've been deprived over the course of the last few years. There is some optimism on the horizon.
CLASS A
HEN HUD might have tossed a monster monkey wrench into the focus of the Class A scenario when Coach Jordan Hirsch's Sailors (9-6), the current No.10 seed, went over the Tappan Zee Bridge and disposed of No.9 Nyack, 64-52, handing Nyack its third loss in the last four game after a 9-1 start. Michael Gagliardi went for 20 points and Dean Hiltsley added 15 points in what could be the biggest win of the Sailors' season.
"I'm really proud of our guys for getting an extremely hard fought win over a really talented, tough, and organized team," Hirsch said. "It's never easy to go across the bridge and win. There are so many good teams in Rockland. Our guys came out with great energy and played wit h a ton of grit from the jump."
We'll see if the Sailors can ride this wave as they get ready for a showdown with state-ranked (No.7) LAKELAND today. Coach Steve Fallo's Hornets (15-1) are currently the second-ranked public school in NYS, behind state-ranked (No.4) Tappan Zee, which needed overtime to knock off state-ranked (No.30) WALTER PANAS in one of the most trying losses in Coach Mike Auerbach's career. That said, Lakeland (15-0 vs Section 1) holds the current No.1 postseason seed while TZ checks in at No.2 and state-ranked (No.15) SOMERS (12-2) comes in at No.3.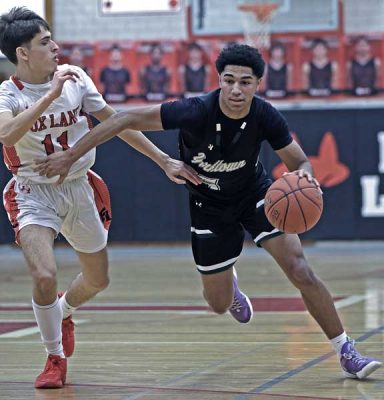 YORKTOWN (13-3) rolls up with the current No.4 seed after a 60-57 win on the road at FOX LANE, the No.7 seed. Can Coach Mark Pavella's Huskers build on that momentum as they prep for today's massive showdown with Somers in what should be a whale of a game #WinnerGetsLeagUpOnLeagueTitle.
Yorktown's Brandon Montero (14 points), Billy Feeks (12) and Kaden Gonzalez (11) were all in double digits for the Huskers.
"It was a battle," Pavella said. "It was a great environment, and both teams played hard."
The Foxes have faced one of the toughest schedules in Section 1 this season.
"We knew it would be a tough week," Fox Coach Mike Tomassi said, "but we competed and had a chance to beat both teams. Basketball is a rollercoaster and we will be a better team for our experiences. Yorktown is a very good team. They were what we expected. We want to continue to improve and be a very tough team in the playoffs."
Tomassi's Foxes (11-4) recovered from consecutive losses to Class AA North Rockland and Yorktown by knocking off reigning Section 1 champ Poughkeepsie, 50-47, when Conrad Hardie (11 points, 8 rebounds), Chris Redhead (10 points) Matt Toscano (10 points) and Kevin New (10 points) were pivotal to victory.
In Fox Lane's 41-38 loss to visiting North Rockland, Matt Toscano had 13 points while Redhead added 11 points and five rebounds.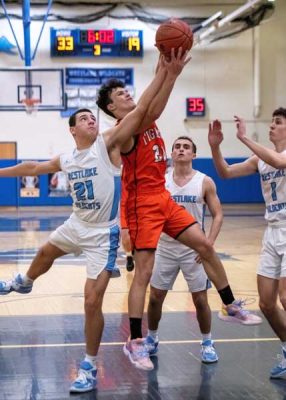 Yorktown worked Mahopac, 59-41, earlier in the week when Montero's double-double was more than enough (17 points, 12 rebounds). Feeks (13) and Gonzalez (11) provided back up.
Panas showed us all that Tappan Zee is beatable, despite not beating the Dutchies in a 61-57 double OT loss. Alex Tavares dropped 26 points for the Panthers (11-4), who had their chances, and, despite the loss, proved they are legitimate title contenders when they put it all together #MoralVictories.
The same could be said for Somers, which went down to Ardsley and just crushed it in a 77-52 win behind a dazzling effort from swingman Matt Fitzsimons (25 points). The Tuskers, who have won four, witnessed some incredible guard play from Nate Cohen (18 points), Andrew Violante (9) and Brady Leitner (8).
Somers has been a crew of road warriors and they went south earlier in the week to Coach Chris DiCintio's old stompings where they knocked off host Rye, 63-57, in overtime, when Fitzsimons scored seven in overtime en route to a massive double-double (22 points, 17 boards). Violante was at his best, attacking the rim for 18 points and junior F Mac Sullivan added 11 points and seven caroms. Leitner scored eight points and dished four assists against a solid Garnet (11-45) club, ranked No. in the seedings.
No.10 HORACE GREELEY dished out a 60-45 win over John Jay- CR when Justin Potack and Ethan Golub led the Quakers (10-5), finishing with 17 points and five assists and 16 points and five assists, respectively. Jesse Goldfarb (13 points) provided a third double-digit scorer for Coach Matt Simone's Quakers, who have won three of the last four and hope to finish strong against Ossining, White Plains, Saunders and Port Chester before closing out against league rival Fox Lane. The Quakers won't win a league title this season (unless Fox Lane falls apart), but a home playoff game – in an 8/9-type matchup – would bolster their chances to advance in the post.
BREWSTER had two wins in a row against Yonkers and North Salem to end a four-game skid that had them under .500 before evening its record now at 8-8.
At home against the Yonkers Bulldogs, the Bears were in control early and cruised to a 73-51 final, led by Conner Griffin, who had 23 points and 15 rebounds. Steven Switzer had 12, while Matt Thompson added nine points with four assists. Versatile sophomore William Dignan also had a strong night with six points, five assists and four steals.
"We did a much better job handling pressure and limiting turnovers against a Yonkers team that pressed us for the entire second half," Bears Coach Michael Nicastro said. "It's important that we continue in this area if we are going to be competitive down the stretch."
Brewster came out on top in their matchup with North Salem, 57-31. Brewster had contributions from many in this one, with Switzer leading the way with 12 points, two rebounds, two assists, a steal and a block. Lucas Cabiati had eight points while Dignan had seven points, three assists, two rebounds and a steal. Griffin scored eight and had five rebounds in limited minutes while Thompson added 10 boards and five points.
"We are looking to carry this momentum forward as they dive deeper into their league schedule in the final stretch of the season," the coach said.
MAHOPAC defeated Clarkstown North, 49-44, in the opening round of the Obama School for Justice tourney before falling to BRIARCLIFF in the finals, 64-60. Against North, Indian G Jake Couzens led the come-from-behind effort, scoring 13 points while F Liam Scanlon added 12 and G Connor Ferreiri scored 11.
In PEEKSKILL's 58-42 win over Edgemont, Jayden Chavis went for 15 to lead the 20th-seeded Red Devils (6-9). Travis Brown had 12 points.
CLASS AA
Perimeter offense was a significant problem for WHITE PLAINS in its 58-42 loss to visiting New Rochelle, a burgeoning sectional contender. The Tigers (10-5) hit just one shot from distance by Miles Johnson as they were defeated for the fourth time in the last six games while sitting as the current No.6 seed.
Menzy Carden paced White Plains with 19 points and Logan McCormick added 10 for the Tigers who hope to knock off struggling Port Chester before extracting a measure of revenge on Horace Greeley on Friday, Feb. 3. The real Tigers need to step up ASAP.
CARMEL chalked up a pair of wins and improved to 4-10, the current No.15 seed. In the Rams 56-47 win over Class B Putnam Valley, Jack Salisbury dropped 17 points. Nick Kreatsolus added 12 points and Joey Loughlin hit three times from beyond the arc for nine points. Damien Santiago added eight points. Sean Holzman and James Apostolico had 19 and 17 points, respectively, for the Tigers. In Carmel's 48-38 win over Harrison, sophomore G Aiden White (17 points) was true to form.
CLASS B/C
The heart and soul of HALDANE the last two-plus years is senior swingman Matteo Cervone, and half the town turned out last Friday night in the Tunnel game against Beacon to see their guy score the 1,000th point of his career, which, of course, he delivered in a 77-68 win over the visiting Bulldogs in the Battle of the Tunnel.
"Matteo is an amazing student athlete who strives for the best in everything he does," Haldane Coach Joe Virgadamo said. "Thank you for being such a great role model."
Cervone scored 24 in all while Ben Bozsik (17 points), Matthew Nachamkin (16 points) and Will Bradley (13 points) were most complimentary on a very festive evening in Cold Spring as the Blue Devils improved to 11-4 overall, the No.3 seed in Class C, on a semifinal collision course with current No.2 Tuckahoe.
"Ryan Eng-Wong added seven points," Coach V said. "Evan Giachinta, Julian Ambrose and Nate Stickle played great on D and hammered the boards and our bench was live."
Tyson "Grim' Repa posted an impressive double-double, going for 20 points and 10 rebounds in BYRAM HILLS' 49-34 rout of a solid Rye club. Brody Ceisler added 10 points for the Bobcats, who improved to 9-4 in Section 1, the current No.3 seed in Class B, just a smidge behind No.2 BRIARCLIFF, which has won four of its last five, including a 64-63 win over Class A Mahopac in the Obama School tourney final. VALHALLA did not play last week but the Vikings (12-1) hope to figure out a way to secure the precious No.1 seed in Class B despite a very tough conclusion to the regular season (opposing teams are a combined 56-36).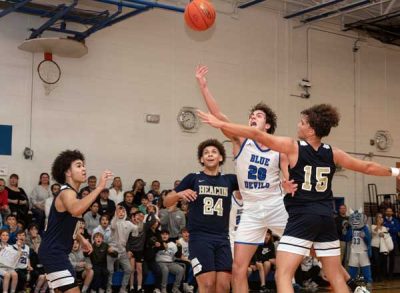 WESTLAKE took it to CROTON, 60-29, for a non-league win on senior night when Jack Neglia led the sixth-seeded Wildcats (9-6) with 15 points and 12 rebounds. Mike Pagan (9 points) and Nick Castellano (8 points) came up strong. Marc Malandruccolo (7 points) and Mike Marto (5) also chipped in. Aidan Callahan had 10 points for the Tigers (7-8), the current No.12 seed.
PLEASANTVILLE won its tournament championship behind a 76-51 blowout of Yonkers Montessori Saturday. Daniel Bronkema (20 points) had a massive game while Daniel Picart and Dermot McSpedon added 14 points and 13 points, respectively, for the Panthers (6-6), the current No.11 seed in Class B.
PUTNAM VALLEY senior Sean Holzman scored a career-high 29 points but the Tigers came up short in a 65-54 overtime loss to Class AA John Jay EF. The Tigers (5-7, 5-9), the No. 14 seed, saw sweet-stroking sophomore Apostolico add a dozen in the loss. These two teams will have a rematch today.
CHSAA
STEPINAC edged Monsignor Scanlan, 58-57, when Boogie Fland, among the nation's finest five-star recruits, went for 28 points, eight rebounds and three assists. Big Ben Lyttle notched another double-double (11 points, 11 rebounds) and Braylan Ritvo (7 points, 4 rebounds) was a solid contributor as the Crusaders improved to 9-2 in CHSAA action, 12-6 overall. Danny Carbuccia (4 points, 7 assists) and Dylan Perry (4 points) each chipped in to the cause.