Hen Hud Grad Honored with Plaque at Montrose Veterans Park
We are part of The Trust Project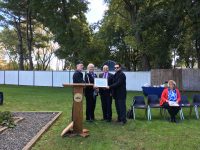 A 2003 Hendrick Hudson High School graduate and Army veteran who was injured during a mission in Iraq was honored last week with a plaque at Montrose Veterans Park.
Kevin Cooke, 34, a Purple Heart recipient, was the fourth local veteran to be recognized since 2015 by the Montrose Business Association.
"I'm not a hero. My team in Iraq are the real heroes. They finished the mission," Cooke said. "What I did was very small in comparison. I loved the Army. Thank you for having me. It really means a lot to be here."
Cooke lettered in four varsity sports at Hendrick Hudson and was captain of three teams as a senior. When he was a sophomore, the World Trade Center in Manhattan was attacked by terrorists on September 11, 2001, an event that motivated him to join the Army, according to Montrose Business Association President Dennis Malles.
"Something was brewing inside him, no doubt about it," Malles said. "He always had this challenge: a challenge to do sports, a challenge in the military. He always had to prove himself. He always conquered everything."
Cooke completed Basic Training at the top of his class at Fort Leonard Wood in Missouri, receiving honors for having the highest Army Physical Fitness Test score in his class of more than 200 soldiers. While in the Army, Cooke and his teammates were hit with a roadside bomb followed by an organized attack by a large contingency of insurgents in Iraq. Cooke was taken to Germany due to injuries suffered in the attack.
Following a long stay in the hospital, Cooke was sent back to Fort Hood, Texas, where he was honorably discharged. The married father of two, with a third child due in February, now works part-time for The Putnam County Veteran Service Agency, as well as the PFC Joseph P. Dwyer Vet2Vet Program of Putnam County.
"What an unbelievable military career. In the Town of Cortlandt we are so proud of you," said Supervisor Linda Puglisi. "You are a hero and thank you for everything you have done to protect our country and our community."