Hen Hud Exploring Deep Waters; Lakeland Wins 25th Straight League
We are part of The Trust Project
By Tony Pinciaro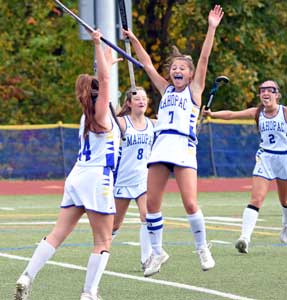 Midway through preseason, HEN HUD senior and captain Taeghan Dapson realized the varsity field hockey team had the potential for a promising season.
"Truthfully, at the start of the season, we had a lot of new players and only six returning starters," said Dapson, in her fifth varsity season. "We knew a lot of work had to be done, and we were excited to get the season started. Preseason was a good indicator for the remainder of the season because of the hard work and effort I saw from my teammates."
This combination, of hard work and effort, has resulted in Hen Hud having one of the most successful seasons in program history.
After sweeping Our Lady of Lourdes (7-1 and 3-1) and winning a nail-biter, 1-0, over Putnam Valley, Class B Hen Hud sports a 9-5 record.
Hen Hud hosted Pleasantville (Monday) and Yorktown (Tuesday). The Sailors qualified for the Section 1 Class B Field Hockey Championships which begin play with out-bracket games, Friday. The first round commences Monday, 10/25.
This current three-game winning streak has catapulted Hen Hud into consideration for a possible top-eight seed. That would result in a first-round home game. However, the Sailors are focused on Pleasantville first, then Yorktown.
The team's success, to date, was established on the success of 2020.
"Last year's team was pretty strong," Dapson said. "Besides this year, that was the strongest team I had been a part of, winning six games while playing some pretty good competition."
This allowed Hen Hud to come into preseason with confidence as it acclimated the newcomers to varsity. Once the newcomers adjusted, Dapson said each player has raised their respective level of play.
"What is making the difference this season, compared to others, is the core athletes we are able to put on the field," Dapson said. "We may not have the most field hockey knowledge, but everyone has stepped up and taken responsibility."
Hen Hud opened last week with a 7-1 victory over Lourdes as Paige Johannsen scored a career-best four goals and Logan Gougelmann added two.
Caitlin Pignataro completed the scoring while Dapson collected two assists. Rowan Dapson, Sydney Muranaka and Ella Sylvester each had an assist.
Hen Hud and Putnam Valley were in a defensive struggle as the game remained scoreless into the second half. That changed when Johannsen converted a Taeghan Dopson centering pass with eight minutes remaining in the game. The defense and goalie Emily Hunt (eight saves) made that goal stand.
Putnam Valley goalie Kylie Recuppio had an excellent game with 13 saves.
"The Putnam Valley and Lourdes' games were really big this season," Dapson said. "It took a team effort for both wins and everyone came together to get the much-needed win over Putnam Valley."
Dapson was referring to the second victory over Lourdes, following the win over Putnam Valley. Gougelmann had a hat trick and Taeghan and Rowan Dapson registered assists.
"This season has been one like none other," Taeghan Dapson said. "I'm so glad that I am able to play with this group of girls for my last season."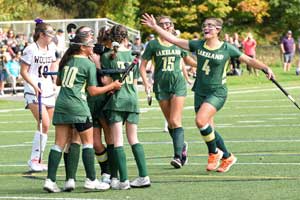 LAKELAND remained unbeaten, but it was fit to be tied as Scarsdale and John Jay-Cross River played the Hornets to a pair of 1-1 draws.
Lakeland used two goals in the fourth quarter to defeat a pesky North Salem team, 3-0.
Emily Yazzetti and Mia Smith each had one goal and one assist Bella Basulto scored a goal and Jaden Ray had an assist as the Hornets clinched their 25th-straight league title.
Lakeland and Scarsdale traded goals in the fourth quarter.
Gabby Alfinito had Lakeland's goal, assisted by Ray, and Celeste Pagliaroli made four saves.
In what could be a preview of the Section 1 Class B Field Hockey Championships title game, Lakeland and John Jay each scored in the third quarter.
Yazzetti scored for Lakeland with Smith assisting. Pagliaroli handled four of five shots.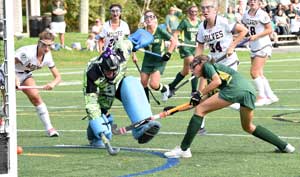 Lakeland is now 13-0-2 on the season and closed the regular season at Mahopac, Monday. The Hornets are in line to receive the No. 1 seed for the Section 1 Class B Field Hockey Championships.
MAHOPAC posted a 10-0 win over Croton-Harmon on senior day, getting a pair of goals from Megan Gallagher, Emma Rooney and Marie Camastro. Kristina Rush, Riley Massett, Ava Jennings and Katrina Levitz added one apiece for the Indians (6-6-2), who could draw the No.10 seed in the Class A playoffs and maybe see No.7 Ossining in the opening round if the current seeds hold true.
YORKTOWN had an unbeaten week with a 7-0 win, in the team's annual Pink Game, over Lourdes, and a 1-1 tie with Pawling.
Brie Gaccino finished with a personal-best four goals. Willa Hanley, Abbie Ellison and Charlotte Lauth also had goals.
Gianna Altimari had two assists while Maya Servedio, Bella Parodi, Clare Ryan and Ellison had one assist apiece. Maeve Ryan made six saves.
Parodi and Altimari collaborated on Yorktown's goal against Pawling. Parodi finished off a penalty corner on a feed from Altimari.
PLEASANTVILLE goalie Izzie Baxter had an excellent week in three games, totalling 38 saves.
Even though the Panthers lost to Rye, 4-0, and White Plains, 3-2, Baxter kept her team in both games, finishing with 22 saves against Rye and 15 against White Plains.
Natalie O'Malley (assisted by Ryan Sullivan) and Ava Horigan had goals against White Plains.
Baxter was called upon once in posting a 2-0 victory over Ursuline as Caitlin Rubsamen scored twice and Sullivan rang up an assist.
Pleasantville is 7-5-2 this season. The Panthers closed out the regular season, Monday, at Hen Hud.
Pleasantville has qualified for the Section 1 Field Hockey Championships which begin Friday, 10/22.
A short-handed HORACE GREELEY had a tough week, playing Lakeland (a 3-0 loss) and John Jay-Cross River (a 5-0 loss), the prospective top-two seeds, respectively, in the upcoming Section 1 Class B Field Hockey Championships.
The Quakers did manage a 2-2 draw with North Salem to salvage the week and give them a final record of 7-6-3.
After many years playing in Class A, Horace Greeley advanced to the Section 1 Class B Field Hockey Championships.
Nina Byrne and Cat Salamida had the Greeley goals against North Salem and Hannah Mortman and Dani Halperin collected assists. Fiona Hayes made seven saves.
"We had a tough week with a couple of players injured and having such a small crew, and we played against some really good teams this week," Greeley Coach Sukhwinder Sandu said. "Hopefully, we should be back and ready for the playoffs."
WHITE PLAINS defeated Pleasantville, 3-2, in its only game of the week.
The Tigers (7-8 this season) will close out their regular-season schedule, Tuesday, against Croton.
"We have been holding tough against tough teams during our season," White Plains' Coach Amanda Grant said. "We are looking to improve on our mistakes to prepare for sectionals."
White Plains has qualified for the Section 1 Class A Field Hockey Championships, which begin with out-bracket games, Friday, 10/22. The first round starts Saturday, 10/23.
NOTES: Regular season ends tomorrow. Seeding meeting is Tuesday. Out-bracket games begin Friday. First round (Class A and Class C) is Saturday while Class B goes Monday, 10/25. Class A and Class C quarters are Tuesday,10/26, with Class B going Wednesday, 10/27. The semis for all classes are Friday, 10/29. Lakeland will host the finals, Sunday, 10/31 — Class B (10 a.m.), Class C (noon) and Class A (2 p.m.).