Heartbroken Mom Pushing for Testing for Elderly Drivers
News Based on facts, either observed and verified directly by the reporter, or reported and verified from knowledgeable sources.
We are part of The Trust Project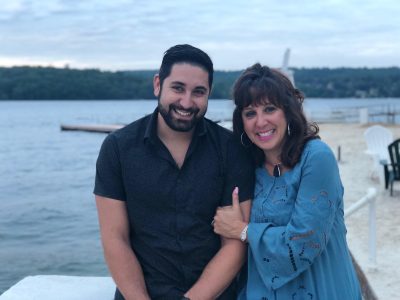 It's been more than 14 months since Yorktown Highway Department employee Jake Arcara, 28, was killed by an elderly driver while working on a drainage project on London Rd., but his mother is still grieving the loss of her only son.
"My heart has been ripped out. I have a hole in my heart that will never be filled," Kelly Arcara said. "This was the person who was the love of my life."
Diagnosed with PTSD (Post Traumatic Stress Disorder), Kelly sees a grief therapist and a psychiatrist to try to cope with the tragedy, but she is also on a mission to try to prevent another family from having to deal with the pain she has endured.
"My son only got to live to 28. The driver who hit him got to live to 88," she said. "I'm trying to save lives here."
Jake, a five-year town employee, was working as a flagger near the intersection of Gomer St. and Quinlan St. at about 11 a.m. on Sept. 14, 2022 when a car, driven by Irving Breitbart, 88, a member of the town's Senior Advisory Committee and Veterans Advisory Committee and former owner of Eagle Awards and Trophy Company in Cortlandt, sideswiped a highway foreman and hit Jake from behind.
Jake died from his injuries at New York Presbyterian/Hudson Valley Hospital. Breitbart suffered broken ribs and other injuries in the accident and died in the hospital Sept. 18, the night of Jake's wake.
Municipalities from throughout the region sent more than 80 highway trucks to Arcara's funeral Sept. 20 at St. Elizabeth Ann Seton Church in Shrub Oak.
Kelly said it was discovered Breitbart's car had several dents prior to the accident and he was not able to renew the lease under his name.
"He should not have been driving," Kelly said. "He got confused and hit the gas instead of the brakes."
No charges were filed by police. Litigation is pending.
Kelly is lobbying state officials to pass legislation that would require drivers at a certain age to undergo a cognitive and physical exam to be able to keep driving. Currently, New York only requires a vision test every eight years when a license comes up for renewal.
"It should be nationwide," Kelly said.
Kelly met with State Sen. Pete Harckham (D/South Salem) earlier this month and has been working with State Assemblyman Matt Slater (R/Yorktown) since he was elected in January.
Slater was supervisor of Yorktown when Jake was killed and vividly remembers having to deliver the devastating news to his mother.
"Our hearts break for her," Slater said. "The goal is to make sure we have a piece of legislation that makes sense."
Slater said draft legislation called "Jake's Law" was circulated to the Transportation and Aging Committees to get feedback, noting some of the bill was met with some resistance.
"At the end of the day, we all want to do something, especially in memory of Jake," Slater said. "Being able to see behind the wheel and being able to have the proper reaction behind the wheel are two different things."
About 30 states currently have regulations in place that require certain assessments for drivers as they age.
AARP has advocated most individuals should consider not driving after the age of 75.
Kelly has written to AARP and AAA to try to get them on board with her effort.
"This was his dream job," Kelly wrote in her letter about Jake. "It took him five years and 52 resumes starting at the age of 18 years old. Every since he was a little boy he always wanted to drive the big trucks and plow the roads to help others get through ice and snow. So many times he would tell me and be so concerned for nurses to get to our local hospital and nursing homes to work."
In an email, John Corlett, Vice President of Public & Government Affairs for AAA, stated the organization would have to review the proposed legislation before commenting on it.
Since the accident, the Yorktown Highway Department closes roadways to traffic when work is being done.
On May 15, the town dedicated Front St., where the Highway Department is located, as the Jake Arcara Memorial Highway.
In addition, a fishing derby in Jake's honor was held in September where $21,000 was raised for St. Jude's Hospital.
"The town has been wonderful," Kelly said. "They have been my family, hugging and holding me. I'm trying to do what my son would do. I will never be able to dance at his wedding. I will never have a grandchild from him. I want my son's name to be out there."