Harry Jefferson Fondly Remembered for His Lasting Imprint on White Plains
News Based on facts, either observed and verified directly by the reporter, or reported and verified from knowledgeable sources.
We are part of The Trust Project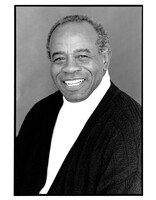 To some, he was the unofficial mayor of White Plains.
To others, he was a stellar athlete and a fixture at White Plains High School as a teacher, coach and administrator.
No matter how he is recalled, it's clear Harry Jefferson, who died Oct. 27 at the age of 89, will be fondly remembered for the lasting imprint he left on the city he loved and called home.
"He was a White Plains institution. He loved White Plains," longtime friend John McCarthy said of Jefferson.
"Harry was a true giant, one of the most respected and influential people that I've ever known," said John Marino, Jefferson's longtime on-air broadcasting partner for White Plains football games on WFAS Radio. "One word to describe Harry: Dynamic! His presence, personality and storytelling abilities lit up a room and our broadcasts from the late 80s through the 90s. Harry's love of his White Plains Tigers shined through every broadcast."
Born Sept. 9, 1934, Jefferson was the captain of the early 1950s powerhouse football and track and field teams, capturing many honors, including being named MVP of Section One and to the All-Metropolitan and National High School All-American teams on the gridiron. In track, he won the state 180-yard low hurdles championship and was named All-County and All-Metropolitan. He competed against the legendary Jim Brown.
He also excelled in the classroom and was elected vice president of the high school student government.
"Though he was 10 years my senior, his reputation as a scholar athlete in White Plains was always paramount," McCarthy said.
Jefferson went on to have a distinguished football career at the University of Illinois. As a junior, where he missed part of the season due to injury in 1955, he earned second team honors on the All-Big Ten squad, and Honorable Mention All-American laurels. In his senior year, he shared rushing duties with future Pro Football Hall of Famers Bobby Mitchell and Ray Nitschke.
He graduated in 1957 with a degree in physical education. The following year, he was commissioned as a second lieutenant in the U.S. Marine Corps and was named Most Valuable Player of its football team.
Following the military, Jefferson was on the New York Giants, but he sustained a serious leg injury that cut his career short.
He then earned a master's degree from Columbia University and was hired as a teacher at White Plains High School in 1959. He also coached the varsity football, basketball and track teams. In 1965-66, he was named Coach of the Year of the Section 1 County Basketball Championship.
Jefferson later switched to administration and became assistant principal at the high school. He retired after 37 years in 1995 and the school's North Gym was named in his honor. In 2015, he was a charter member of the White Plains High School Hall of Fame and was also inducted into the Westchester County Sports Hall of Fame.
An annual basketball tournament, the Harry Jefferson Showcase, is held each December at the high school.
Marino said he enjoyed the thrill he had one day when he enjoyed the "Harry Jefferson Special" at Nicky's Pizzeria in White Plains, which was a combination of linguine and numerous kinds of seafood, with Jefferson.
"Having a dish named after you in your own hometown. Now that's special" Marino exclaimed. "Listening to Harry's in-game analysis, you could close your eyes and imagine you were listening to Lou Rawls. There were apparently a couple of instances during the height of Lou's fame where airline attendants mistook Harry in his travels for Lou and upgraded his accommodations. It was the highest privilege to call him my colleague, and most importantly, my friend."
On Feb. 2, 1958, Jefferson married his college sweetheart, Gertha. They celebrated their 65th anniversary earlier this year. He is also survived by two children and seven grandchildren.