News Based on facts, either observed and verified directly by the reporter, or reported and verified from knowledgeable sources.
Harney Scores 5G in Mahopac's Class B Playoff Win Over Somers
We are part of The Trust Project
Indians to Face Rye in Semis, Yorktown to Battle John Jay
By Ray Gallagher, Examiner Sports Editor @Directrays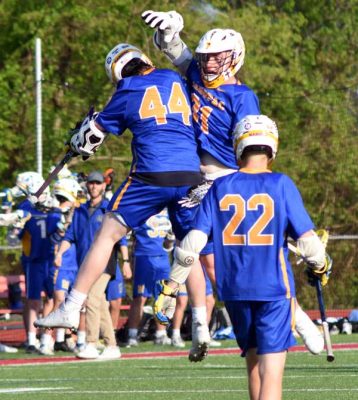 We specifically told you in this space last week that the outcome of No.4 SOMERS vs. No.5 MAHOPAC was going to come down to the grunts in the trenches, and there was no bigger grunt on the field than Mahopac senior FOGO Chris Evans, who completely destroyed any and all comers at the X in Coach Jon Bota's Indians' 11-5 Class B quarterfinal win over the shellshocked Tuskers last Thursday.
Evans has been improving since the season began, starting to look more and more like his brother, Andrew, another dominant FOGO at Mahopac. Evans took every draw for Mahopac and won 15 of 20, helping the Indians (12-5) get off to a 5-0 lead before the Tuskers (11-6), who beat the Indians 10-7 in the regular season, knew what hit them.
"I was locked in," Evans said. "The coaches had us motivated today and I just took care of business. Anything's possible if we play like we did today."
Evans and Mahopac wing Chris Morris had everything to do with setting up West Point-bound senior A Mike Harney (5G), junior Gavin Viglucci (3G) and junior Jake Degnan (2A), who spotted the Indians a 5-0 lead after the first and 7-2 at halftime.
"We really wanted to come out here early and put it to Somers," Harney admitted. "We executed perfectly. We're a different team now than we were the first time we saw them. We didn't want the ground balls, didn't want to be checked last time. All that changed, and now we're playing Mahopac lacrosse. We're going to Nugent (at Rye) and we're going to put it on them, too."
Coach Bota, a key member of Mahopac's last title winner back in 2011, has his team peaking at the right time, which is key with the Indians set to take on No.1 Rye in last night's semi.
"They found ways to battle back in transition, finding ways to score on the break," Bota said. "In regards to Evans, it's mainly what he does now after winning the faceoffs that's the difference. His decision making is much better now. He's handling those pressure situations much better now,"
Mahopac G Tommy Jacobellis (9 saves) stood tall between the pipes and All-Section senior D Sean Masset was a hound on GBs, causing a handful of turnovers while sparking transition.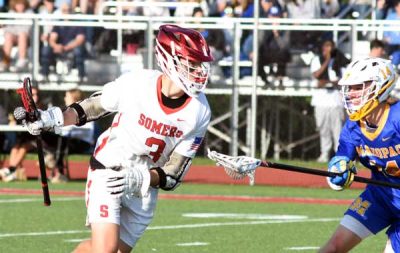 "The defense followed Massett's lead and was stout, putting up a shutout in that first quarter," Bota said. "Most of their goals were let up in transition. This was a big win for the team. We executed the game plan with poise and conviction. Evans dominated heavily, winning ground ball after ground ball, finding teammates with two poles on his back. His play has helped escalate our offenses and defense, allowing them to operate much more efficiently. I was very impressed by his decisions after winning the faceoff. Harney was a master, controlling the game and sticking five big goals.
"Gavin Viglucci, Danny Koch, Luke Kelleher and Ryan Geohagen were unselfish on the offensive side, poised with their decisions. Chris Morris and Steve Perrone held it down while at short-stick D-mid with two-way play. Jack Elliot has been playing big for us at the LSM position, which allows us to apply pressure. Tommy Jacobellis has been heating up as the season went on standing tall for this team. Shout out to the bench mob who has been a large part of today's win."
The Indians' defense was disrupting much of Somers' opportunities, limiting the few looks they had.
"Hats off to our entire face off unit, Evans especially, and Chris Morris on the wings, he's got some balls" Mahopac senior D Sean Massett said. "We knew we had to possess to get things going, and Evans got us going. Somers is young and they have a great offense already so I can only imagine them in a couple of years,"
Freshman Miguel Iglesias had two goals and one assist for the youthful Tuskers, who might have been in slightly over their heads in such a pressurized playoff moment but they will be served well by it during what should be a bright future. The Mahopac defense did a solid job on Tusker All-Section senior M T.J. Olifiers, the last of the Oli Bros. to cruise on through Tusker Town.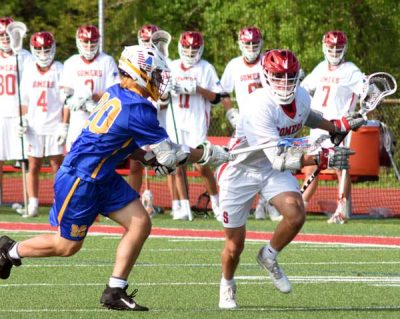 "We knew Mahopac was going to be coming into the game with a chip on their shoulder and they played well," Olifiers admitted. "They won a majority of the face-offs and capitalized fast on offense at the beginning of the game to make a big gap for us to overcome. I'm happy we fought till the end and left everything out on that field till the last whistle."
No.2 YORKTOWN had its way with No.7 Greeley, 16-7, behind three different hat tricks from sophomore Drew Weissman (1A), who now has 30 points on the year, Harry Griff (38G, 33A on the season) and Ryan Vogel (1A). Jack Baker was cooking, too, bagging two goals for the Huskers (9-8). The entire offense was sizzling behind FOGO Jason Fastiggi, who has won 64% of his 318 draws this season. He stole 24 faceoffs against Greeley to help set up last night's semifinal round against No.3 John Jay CR, ranked No.9 in NYS. State-ranked (No.7) Yorktown, the 40-time Section 1 champs who have not been crowned since 2017, will need more of that type of scoring balance as the top poles in Class B look to lock off Griff, the All-American attack.
No.8 LAKELAND/PANAS dropped an 18-4 hammer on visiting No.9 Clarkstown South in the opening round of the tournament, but was eliminated in Thursday's quarterfinal round by defending champion Rye, 12-3.
Against South, senior A Nick Graap crushed five goals and an assist for the Rebels (7-11), who led 11-1 at the half. Nic Connetta (3G, 2A) and Joe Alleva (4G) were major contributors, but the well ran dry against the state-ranked (No.3) Garnets.
Graap finished his career with a pair of goals and Aleva added a third for a Rebel squad that had its fair share of adversity this season due to injury.
CLASS C
No.7 HEN HUD is Final 4-bound after Coach Troy Lepore's Sailors (11-6) upset No.2 Tappan Zee, 9-7 behind a five-point night from Dean 'The Dream' Hiltsley. Tied at 2-2, Hiltsley's Sailors went on 5-0 tear that had them up 7-2 headed into the second half. TZ Coach Andrew McIntosh, of Putnam Valley and Oneonta fame, saw his state-ranked (No.17) Dutchmen roar back with four unanswered in the third, before Sailor senior Rocco Capitcotti scored the game-clinching goal to make it 8-6. Cap and Tyler Robinson had three points apiece while Thomas Popolizio added one goal and two assists and Scott Lupi scored once for the Sailors, who advanced to last night's semis against No.6 Pelham, ranked No.13 in NYS. A win would put the Sailors in the finals for the first time since 2012 and the second time since 2005 when Coach Lepore's Sailors stumbled in the finals.
One can only imagine the scene at Fulgum's Bar in Montrose should the Sailor laxmen keep the good times rolling, just as the girls' lax and softball teams have. Hen Hud is having a banner spring and Fulgum's could be a hot spot across the street from campus should the Sailors continue this bountiful three-sport campaign that has the Sailors knocking on championship doors.
"Big W for sure," Lepore said. "It felt good to get one over them when it meant the most. It was a good, fun high school lacrosse game. We love playing and competing against Coach Mac, Murray and their team. Big one against Pelham in the next one on Monday."
Hiltsley slayed Eastchester in the opening round, scoring six times in a 15-4 rout of the 10gh-seeded Eagles, the Sailors first postseason win since 2018. Capicotti went for three of Hen Hud's first six and Popolizio added a goal and dished three assists. Ryan Clark and Lupi each scored twice.
"Capicotti got us on the board with a big GB and individual effort for the goal and followed it up with an assist to Hiltsley, and Capicotti scored three of our first sis. Cole Pritchard kept the ball away from Eastchester with a great day at the faceoff X. Feels good but we have bigger goals we hope to accomplish."
No.4 PUTNAM VALLEY had No.5 BYRAM HILLS reeling, but Michael Oronzio's fourth goal of the game with 20 seconds left preserved a 10-9 triumph for the visiting Bobcats (11-5).
PV was up 9-8 3:01 to go when the Tigers (12-6) got a 2-minute unreleasable penalty, followed by an offsides and a slashing penalty, which led to two Byram goals.
With nine seconds left, Tiger Ryan Denike made a great look to Andrew Dzubak on the Bobcat doorstep but G Forcino made a great save or the game would have gone to OT.
"We were down 8-5 late in the third and rallied," PV Coach Tim Weir said. "I love this team. They never quit and had a great attitude."
Chris DeGiorgio and Hayden Gumbrecht each had three goals for the Tigers, who tripped up Nyack, 13-8, in the opening round where Dzubak drilled six goals for the Tigers, who snapped a 5-5 halftime tie with six unanswered goals in the third. Denike had two goals and three assists while Gumbrecht added a hat trick. M Davin Portues added three points and won all but three of 22 faceoffs. Defenders Logan Porteus, a junior, and senior captain Anthony Esposito were part of 10 takeaways.
Andrew Tyndall and Jason Weller scored for No.11 BREWSTER in the Bears (6-11) 12-2 opening-round loss to No.6 Pelham.
CLASS D
No.8 CROTON made short work of No.9 WESTLAKE in a 21-11 opening-round rout of the Wildcats. Carter Schmidt did the damage for the Tigers (7-11), scoring a career-high nine goals while dishing two assists. Noah Bovone added six goals (two while man-down) and three assists while M Sean Grimes was 16 for 22 on faceoffs. Tyler Howard netted six goals for the Wildcats, who trailed 10-6 at the half.
Croton was eventually eliminated by top-seeded BRIARCLIFF, 15-2, when snipers Brandon Rispoli (4G, 1A) and Jack Ricciardi (2G, 5A) went off for the state-ranked (No.6) Bears, who are on a collision course with No.5 Bronxville, which took care of business in a 17-1 drubbing of HALDANE. The Briarcliff vs. Bronxville game could be the best game of the sectional tournaments, including all classes.
The seventh-seeded Blue Devils reached the quarters after a 13-4 win over No.10 Dobbs Ferry behind an eight-point effort from Evan Giachinta (3G, 5A), just a ridiculous athlete.