Harckham in Tussle in First Re-election Bid for State Senate Seat
We are part of The Trust Project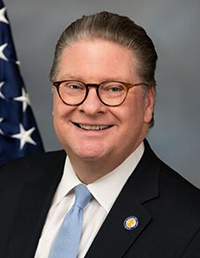 Two years ago, state Sen. Peter Harckham rode a blue wave of Democratic enthusiasm to became the first member of his party to represent northern Westchester and Putnam counties in the state Senate in just over 100 years.
Next week, Harckham, 60, is looking for a similar scenario to play out.
"It's been an incredible honor and privilege," said Harckham who previously served more than seven years on the Board of Legislators. "I've met the most amazing people, folks from all over the district. We've done some great things on a statewide level, we've accomplished some really good things at the local level and now we're confronting things, challenges that no one could have ever imagined."
Perhaps the biggest challenge is a state budget and economy that has been ravaged by the pandemic. Harckham said to close the estimated $14.6 billion deficit there needs to be a combination of cuts, new revenues and assistance from Washington. Without the latter, the consequences would be "dire to the economy," he said.
Already, Gov. Andrew Cuomo's budget team has begun withholding money to contract agencies and local governments, Harckham said. To make any cuts permanent, the governor would need to ask the legislature's approval.
The overwhelming portion of the deficit – about $13.5 billion – resulted from sales tax revenue that evaporated, Harckham said. Much of the rest came from a loss of gaming and OTB revenues, he added.
Refuting the arguments of his opponent, former Westchester County executive Rob Astorino, Harckham said the $6 billion Medicaid deficit early this year was closed by the time the budget was approved. Recommendations from the governor's Medicaid Redesign Team were not enacted because the state would have lost out on funding from the federal government if changes were made now.
"So what the governor was planning to do to reduce the rate of growth can't be done until after the coronavirus emergency is over," Harckham said.
Harckham said visitation at nursing homes must be reinstated for the physical and mental health of the residents. Currently, his legislative staff is working with the Montrose VA to allows residents to receive visitors safely.
He said what has been learned from the early months of the crisis is nursing homes can't admit residents who have tested positive for COVID-19 or have staff members who are positive work.
Everyone agrees that students need to be back in the classroom but local school boards, educators and parents must make the final decision, Harckham said. Many families when given the choice are opting for virtual learning.
"Whether it's schools, whether it's getting consumers to our businesses, all of this comes down to keeping the virus at bay, keeping our population safe and staying vigilant about masks and hand washing," Harckham said. "So it's all tied together."
Capturing a greater share of districts' rightful state aid is crucial to having many of the higher needs schools regain firm financial footing and offer a strong education, he said. Incorporating the 2020 Census data into the outdated state calculations and devising a fair and clean formula will be essential, Harckham noted.
In 2019, Harckham said he was able to secure a combined $10 million for the Peekskill, Brewster and Ossining school districts.
The senator said the NY Health Act is an aspirational goal of increasing insurance coverage but the state can't afford to pursue it at this time. A federal approach to expanding health care is preferrable. The pandemic has exposed the pitfalls of employer-based insurance, he said.
Harckham accused Astorino of repeatedly making false and misleading claims about bail reform. There is no evidence that eliminating bail for non-violent offenses has caused a spike in crime in New York City or elsewhere, he said. Furthermore, disproportionate long-term incarceration of minorities and defendants with less money has historically hurt Black and brown communities, Harckham said.
Earlier this year, the legislature revised the law, adding a series of offenses that now require bail, such as domestic violence and repeated offenders, he said.
"If people want to double down on a policy that is regressive and you know disproportionately impacts minority communities, that is the very definition of systemic racism," Harckham said.
A key disagreement holding up the legalization of recreational marijuana is how to split the revenues. Harckham said Cuomo wants the money to go to the general fund while the legislature has been steadfast in making sure that at least 20 percent goes to substance abuse disorder treatment, prevention and education.
Harckham agreed with the decision to postpone the $3 billion green referendum for at least a year. Westchester legislators also worked with the Public Service Commission to have a small increase on utility bills to sustain the cessation fund to provide relief to the communities affected by next spring's closure of Indian Point.
The senator has also introduced legislation calling for all new cars to be gas-free by 2035.