Harckham Gears Up Campaign During the Heat of Summer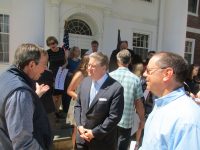 Summer is roughly at its midpoint and Peter Harckham is comfortable with his standing in the 40th state Senate District race.
That doesn't mean he's resting on his laurels. To the contrary, the former Westchester County legislator has been out and about in the district meeting with what he hopes are his future constituents, including visiting Metro-North stations before 6 a.m.
"What I'm hearing most is that they want a Senate that works," Harckham said. "It's really clear that the Senate has abdicated its right to lead because they really couldn't even pass the ministerial stuff, the red-light cameras, the home rule tax warrants, all these local little things that should be as of right, that should be done, they got none of it done."
But Harckham first has to win two contests if he hopes to get elected – the Democratic primary on Sept. 13 against Robert Kesten, who got an early jump in the race late last summer, followed by what would surely be a bruising general election battle against two-term Republican incumbent Terrence Murphy.
Harckham has been racking up endorsements from key Democratic officeholders this summer with Assembly members Sandy Galef (D-Ossining) and Thomas Abinanti (D-Pleasantville) and many of his former colleagues on the Board of Legislators. He is also expected to soon receive the support of County Executive George Latimer.
He said the support he has received from Democrats at the county and state level has bolstered his campaign. Harckham is optimistic that the general public will evaluate him based on his accomplishments.
"I happen to have a record," Harckham said. "A lot of people know my record, they know of me and they'll make a choice, good or bad, but I've got a resume and so that's what people will judge what kind of senator that they think I'll be."
While Harckham is a known quantity in Westchester, he's been getting better acquainted with the electorate in the Putnam and Dutchess portion of the district. Despite Republicans having dominated elections up north, Harckham said there are issues that resonate with voters across the board, including local economic matters, the health of the downtowns and infrastructure, which are crucial to the long-term health of each community.
"We need a state senator that will focus like a laser, one on one, with each municipality instead of just saying we passed the budget and there's economic development in there and it's out of my hands," Harckham said.
There are also issues of housing for different stages in life and water and sewer, something he was involved with on the Board of Legislators that is connected to the success of the district's Main Streets, he said. Without ample water and sewer capacity, commercial districts would have difficult reinvigorating themselves.
Harckham also is adamant about the state passing a so-called red flag bill so a judge can be petitioned to remove firearms from troubled individuals' possession. The measure, passed in an additional seven states since the Parkland, Fla. high school massacre last February has been blocked by the Republican Senate.
"This is a bill that can actually save lives and at the same time it's not talking guns off the street it's not taking guns out of lawful firearms owners' hands," he said. "It's just common sense."
Democrats are hopeful the dynamics of this year's election cycle will bode well for the chances to snag the 40th Senate District seat. Last November, Putnam voters elected a Democrat for sheriff, a rarity for a countywide race. That proved the public is willing to listen, Harckham said.
"As long as people give you a fair shake, that's all you can ask from them," Harckham said. "Give me five minutes of your time and let me stand on your porch. Let me hear what's important to you and this is what I'm going to do."