Harckham Contacted By Cuomo, Ponders State Senate Run
We are part of The Trust Project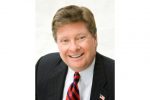 Former county legislator Peter Harckham is "strongly considering" a run for the 40th state Senate District seat after he was apparently asked by Gov. Andrew Cuomo to contemplate entering the race.
Harckham said he has been approached by former constituents, various Democrats and others to weigh a candidacy for the party's nomination and oppose two-term Republican incumbent Terrence Murphy.
On Wednesday, Harckham, a Lewisboro resident, did not answer questions, but released a one-paragraph statement acknowledging his potential interest in the seat.
"I have been asked by many former constituents, members of my party and advocates to consider running for the New York State Senate, given my experience and record of accomplishments as a Westchester County Legislator for four terms," Harckham said. "I am strongly considering running and will make my decision in short order. I am very grateful for the outpouring of support and I will make my intentions clear in the very near future."
Harckham resigned from his Board of Legislators seat in June 2015 to join Cuomo's administration as the assistant director of the Office of Community Renewal at the Office of Homes and Community Renewal after winning four two-year terms.
Although two other Democrats in the district had seriously weighed a run earlier this year, Lewisboro resident Robert Kesten has remained the only candidate to challenge Murphy. If Harckham decides to run, he and Kesten would face off in a September primary.
Kesten, who has been friends with Harckham for 20 years, said he called Harckham late last week to learn that Cuomo had requested the former county legislator jump into the race. Kesten declined to speculate what motivated the governor and that he has had no contact with Cuomo or anyone from his office or staff since he announced his candidacy last summer.
"It's hard for me to judge what the governor is thinking other than like many politicians if you can have your own person in a seat or in a race it makes it better for you when you're also are in a primary or a general election," Kesten said.
It has been speculated that Cuomo may be attempting to assemble the best possible candidates in an attempt to wrest control of the Senate from the Republicans. Currently, Republicans hold a one-seat advantage in the Senate. Seven of the eight members of the Independent Democratic Conference say they will rejoin the Democratic caucus but they could remain a wild card.
Cuomo, a New Castle resident, also lives in the 40th Senate District.
The relatively late request could potentially jumble the race or trigger political tremors throughout the district. To date, Democratic committees from at least 10 municipalities have endorsed Kesten.
Jerry Curran, head of the New Castle Democratic Committee which endorsed Kesten on Apr. 10, said he expects Harckham to make a decision by Monday. So far, the scuttlebutt has Harckham throwing his hat into the ring but that is far from official, he said.
"I've heard a lot of chatter that he will get into the race but Peter Harckham has to make that decision," Curran said.
Curran mentioned there are advantages and drawbacks to a Harckham candidacy. While Kesten, a first-time candidate, has been embraced by the progressives and the party's Indivisible movement, Harckham is a known quantity who has been elected multiple times to public office, he said.
However, it could also alienate progressives should Harckham eventually gain the nomination, resulting in many Democrats staying home on Election Day. Curran also said that social media sites have district Republicans encouraged by the potential for a Democratic primary because it could deplete the party's resources for the general election.
A statement from Murphy's campaign manager Martha Ruiz Jimenez went after the party for having one flawed in Kesten and potentially another in Harckham.
"The Governor must feel that the so-called Indivisible movement is a joke," Jiménez said. "He clearly doesn't trust local Democrats to make the right call, but while knifing them in the back, he is recycling a stale candidate who once sought to join Shelley Silver and saddled northern Westchester with the HUD settlement. Voters have already rejected Peter Harckham and they will do so again if given the chance."
In his only bid for statewide office, Harckham was defeated in a 2010 special election for the state Assembly by Republican Robert Castelli.