News Based on facts, either observed and verified directly by the reporter, or reported and verified from knowledgeable sources.
Haldane Crowned NYS Class C Regional Champs, Bound for Glens Falls
We are part of The Trust Project
Valhalla Bumped off Course in NYS Class B Regional Title Setback; Stepinac Takes CHSAA AA City Title
By Ray Gallagher, Examiner Sports Editor @Directrays, & Christine Sampson
The road to Glens Falls – home of the NYSPHSAA boys' hoops championships – is littered with potholes. Navigating them is easier said than done, and just one Examiner-area team – Class C Haldane – will load the buses to make the trek north this week after the Blue Devils reached the state Final 4 for the first time since 2016. Class B Valhalla hit one of those bumps in the road Friday, which the Vikings could not steer clear of, ending the finest season in school history.
CLASS C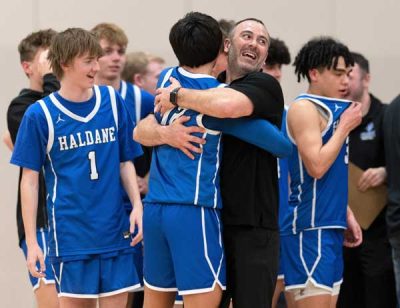 HALDANE Coach Joe Virgadamo told his Haldane High boys' basketball team to expect a tight game against Pierson High School (Sag Harbor, Section 11) on Friday. There would be a five-point difference, he'd guessed.
Coach V was almost right — it was a four-point game, 57-53, in Haldane's favor – giving the Blue Devils the New York State Public High School Association Class C Southeast Regional title and sending them to the state final four in Glens Falls this weekend where the state-ranked (No.6) Blue Devils (20-4) will challenge state-ranked (No.23) Section 10 champion Canton on Friday, St. Patrick's Day (9:30 a.m.) at the Cool Insuring Arena in Glens Falls. A win there would advance Haldane to Saturday's 5:15 p.m. state finals against the Section 4 Moravia (No.2 in NYS)/Section 5 Randolph (No.5 in NYS) winner with the Blue Devils seeking their first state title and just their second trip to the state finals.
Two-time All-Section Haldane senior Matteo Cervone set the tone in the regional title game. If he ever got tired, he didn't show it. He scored five of the team's first 11 points to start the game and ended it by scoring seven of its final 10 points. More than one time, he rebounded missed Pierson shots and took the ball coast to coast. He finished with a game-high 26 points and 12 boards.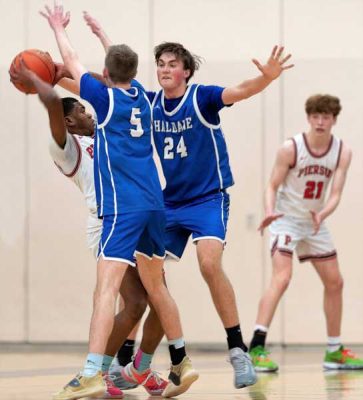 "We were excited to play," Cervone said after the game, dedicating the win to past years' teammates who had paved the way for the win. "We made a lot of sacrifices for this."
"He was a monster," Virgadamo said of his standout senior, who recently surpassed 1,000 career points.
Haldane was the faster, steadier team from the start, with senior William Bradley (6 points), junior Matthew Nachamkin (13 points), senior Ryan Eng-Wong and senior Benjamin Bozsik (7 points, 4 steals) forcing Pierson turnovers early in the game. Defensively, the Blue Devils worked hard to keep state-ranked (No.22) Pierson out of the paint, forcing the Whalers (15-9) to rely on outside shots and three-point attempts.
"The credit goes to Haldane," said Pierson Coach Will Fujita. "They had a great game plan for us."
Virgadamo acknowledged that "we still have some room for improvement, but we worked on situations all year to be mentally and physically ready for a game like this, and it paid off."
"These guys were dogs all night," he said. "They just wanted to keep this season going, and it's emotional. We're going up to Glens Falls together."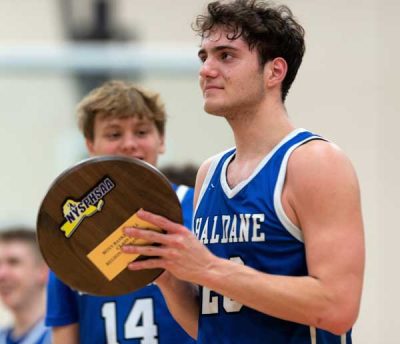 At halftime, Haldane led Pierson 30-24 thanks to buckets by Nachamkin, Bradley and Cervone and a defensive effort that kept Pierson scoreless for the last 2:40 of the first half.
Pierson cut Haldane's lead to 3, 44-41, at the end of the third quarter when Aven Smith hit back-to-back 3-pointers.
Soccer stars, Eng-Wong, PJ Ruggiero and Nachamkin, helped the Blue Devils win the first state title for a boys' sports program in Haldane history, and they are now eyeing a second state jewel in five months.
Haldane pinned a 65-47 setback on Section 9 champ Rhinebeck in Wednesday's opening round at James I. O'Neill High School, merely a stone's throw from Cold Spring. The 6'7" Nachamkin went for 20 points and eight rebounds. Will Bradley came out blazing, scoring nine of his 17 points in the first quarter. Cervone was typical Cervone, the recent Golden Dozen Award winner dropped 16 points and grabbed nine rebounds. Point G Ben Bozsik added six points, four assists and four steals and G Ryan Eng-Wong added three assists. Stickle (4 points) and Evan Giachinta (2) chipped in as well.
"We really are getting contributions from everyone both offensively and defensively," Coach V said. "These kids are on a mission and we still haven't had everyone play above average in a playoff game yet. Our bench has been phenomenal with Evan and Nate. All these kids are winners."
CLASS B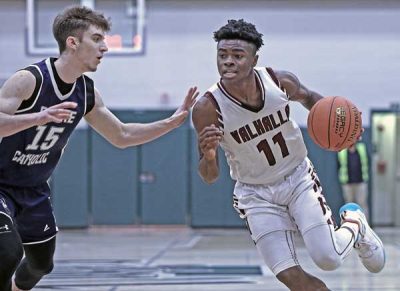 Friday's second southeast regional game featured state-ranked (No.4) VALHALLA  against No.3 Southampton High School (Section 11), which did not end in favor of Coach Rich Clinchy's Vikings (24-2) despite a late scoring rally that seemed to spook the Mariners (20-5). Southampton, for whom the contest at nearby Eastport-South Manor High School was practically a home game, ended up with a 64-55 win and a trip to the NYSPHSAA Final 4.
Clinchy complimented Viking G Devan Cooper, who garnered high praise from out-of-town reporters at the media desk, who watched the senior keep his Vikings in the game. Cooper finished the game with 15 points, including back-to-back three-pointers that brought Valhalla within four points, 45-41, early in the fourth quarter. He also pulled off several steals that turned into assists.
"He's the quickest player on the court. He's like no one I've ever coached," Clinchy said of Cooper. "His hands and speed and anticipation are so quick — you can never teach someone to play basketball like he does. His athleticism is more than the basics of basketball."
All-Section senior Basiaka Butcher was also solid, adding 21 points for Valhalla.
"We knew how good Southampton would be," Clinchy said. "We were up 12 in possessions, so that means we had a chance. You've got to hit shots — we did not. They take fewer shots, but they're in the lane. This happens in basketball."
"They beat us," he continued, "so that's a team that can win a state championship. Southampton is really good. Their whole starting five can play, and their point guard is probably the best guard we played against this year, and there is only one senior in their starting lineup, so they will be good next year, too. Like with any loss, you can look back and think of things that you might have done differently, but we gave it our best shot against a very strong team."
Valhalla was just 3 for 15 on 3's in the first half, and 3 for 14 in the second half and shot an uncharacteristically low 5 of 11 from the foul line.
Valhalla turned on the jets in the second half against Section 9 champion Burke Catholic in Tuesday night's NYSPHSAA Class B opening round win at Yorktown High, leading to a 70-56 no-doubt-about-it victory.
Valhalla expanded on a 38-24 halftime edge with a massive third-quarter run that saw their lead swell into the 20s. The defensive end of the court led to the Vikings owning the glass and getting out in transition behind Amorosa, who led Valhalla with an impressive double-double for any guard (22 points, 10 rebounds, 4 assists and 5 steals). Butcher (18 points, 10 rebounds, 3 assists, 3 steals and 2 blocks) provided a second double-double with a well-rounded effort. Cooper added 17 points, four assists and two steals for the Vikings.
CHSAA
When everybody doubted them, state-ranked (No.8) STEPINAC came to play, holding off a vigorous charge from No.4 Cardinal Hayes to walk off with a 69-66 CHSAA AA Intersectional City Championship Sunday at St. John's University. Hayes missed a 3 in the final seconds in an attempt to tie the game, so Stepinac advanced to the NYS Federation Tournament behind a game-high 30-point performance from five-star prep and tourney MVP Boogie Fland, who also added four assists and two steals. All-tournament picks Danny Carbuccia (13 points, 5 boards, 2 assists, 2 steals) and Ben Lyttle (10 points, 3 rebounds) came up huge for the Crusaders, who will take on the PSAL champions on March 24th in the Federation semis, which pits the champions of the NYSPHSAA, NYAIS and PSAL teams against the Crusaders.
"Boogie was big-time on the big stage," Stepinac Coach Patrick Massaroni said of one of the all-time great efforts in Crusader history. "I'm proud of our guys. They battled all game. We came prepared and were locked in."
HOOP NOTES: Cervone was one of several Examiner-area hoopers to garner the prestigious William J. Thom Court of Excellence honor for high honors on both the hardwood and in the classroom, including Somers senior Matt Fitzsimons, Liam Johnson of White Plains, Greeley's Justin Potack and Fox Lane seniors Charlie Shevick and Chris Redhead. Former Croton Coach Bill Thom was an all-time great on the Section 1 circuit, so this honor is high praise for the 10 Section 1 honorees.