Haldane Concludes Bittersweet Week with NYSPHSAA Region 1 Title
News Based on facts, either observed and verified directly by the reporter, or reported and verified from knowledgeable sources.
We are part of The Trust Project
Class D Blue Devils Overcome Horrific Tragedy, Dedicate Win to Stubblefield Family
By Ray Gallagher, Examiner Sports Editor @Directrays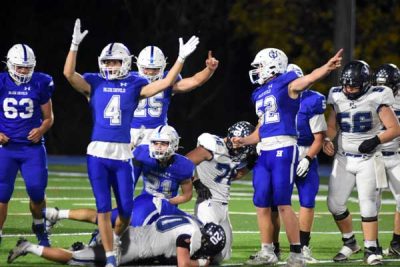 MAHOPAC – A bittersweet tragedy played out Friday night at Mahopac High School where the state-ranked (No.6) Haldane Blue Devils secured a 37-19 triumph of Section 9's Burke Catholic in the NYSPHSAA Class D regional final. Blue Devil RB Evan Giachinta rushed for 148 yards and three touchdowns and speedy QB Ryan Van Tassel scored twice, leading Haldane to the state semifinals for the third time since 2015 and fifth overall.
That was the sweet part. The bitter part came just days before when their beloved teammate, Erik Stubblefield, went to hell and back after his father of seven, Joe Stubblefield, was killed in a fatal car crash by an alleged drunk driver just one day after he watched the Blue Devils defeat Tuckahoe for the sectional championship on Nov. 10.
Joe Stubblefield was driving on a Putnam County road Saturday night with his 7-year-old son when another driver crossed the double-yellow line and smashed into Stubblefield's car head-on, police reports indicated. The 52-year-old was pronounced dead at the scene, and the other driver, Marcos Martinez, was taken into custody and will face serious charges. Luckily, the seven-year-old suffered non-life-threatening injuries and is expected to make a full recovery.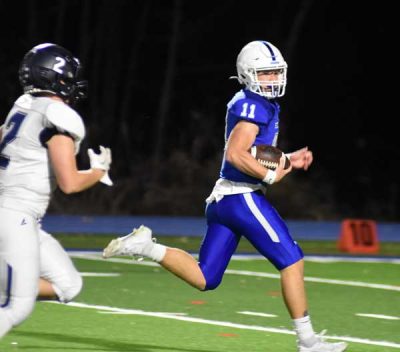 Despite the hardships the family and team went through, the tragedy only bolstered Haldane's resolve against state-ranked (No.4) Burke.
"We practiced and played with a heavy heart all week but the moment definitely inspired us to play harder and even more for each other," Captain Van Tassel said after completing 11 of 17 passes for 145 yards and rushing for a pair of scores and 103 yards on just seven totes. "We've rallied behind Erik as a leader all year on defense and in practice. We really focused on being a family all week and will continue to do so, but that win was for him and his family."
The Blue Devils (8-2) will face Section 2 champion Stillwater Friday, 3 p.m. at Middletown High School, and hope to do so with a healthy Erik Stubblefield by their side after a first-quarter leg injury kept him sidelined, but not before getting in on two tackles. Brody Corless, Alex Gaugler and Jack Hartman were in on eight sticks while Nate Stickle was in on 10.
Offensive linemen Dylan Rucker and Hartman paved the path up front, opening truck-size rushing lanes in the third quarter for a Corless 61-yard catch and run to set up a Giachinta score, followed by Van Tassel's 62-yard pop to paydirt for a 29-6 lead with 6:31 left. Giachinta did his usual things, taking 33 carries and moving chains with frequency (Haldane had 22 first downs to Burke's 12) while having a hand in eight tackles. He also added three two-point conversions after Stubblefield, who does all the kicking, went down.
"The team rallied around each other and played together as a team," Haldane Coach Ryan McConville said. "Guys made big plays all night and I think the offensive and defensive lines played extremely well. We are very excited to win the regional championship and have an opportunity to play in the state semifinals."
Haldane last won the section and reached the state tournament in 2021, losing in the quarterfinals. A win over state-ranked (No.3) Stillwater, which won't be easy, would send the Blue Devils to Syracuse's JMA Dome and the state finals for the first time ever to face the winner of Section 6 Clymer/Sherman/Panama vs. Section 4 Tioga, the No.2 and No.1-ranked teams in NYS, respectively.
Corrections:
Sourcing & Methodology Statement:
References: