Hagadus to Vie for Seat on Pleasantville Village Board
News Based on facts, either observed and verified directly by the reporter, or reported and verified from knowledgeable sources.
We are part of The Trust Project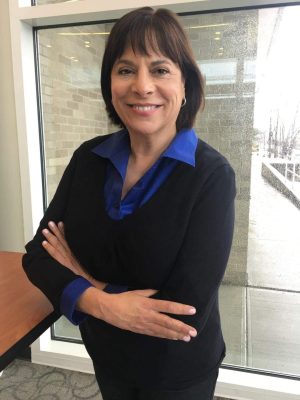 Pleasantville resident Francesca Hagadus has thrown her hat in the ring for a seat on the Pleasantville Village Board.
Two seats, both of which carry three-year terms, are up for re-election in March. The incumbents are Nicole Asquith, who already intends to run for a third term, and Paul Alvarez.
Hagadus announced her candidacy Sunday on her Facebook page after she collected signatures on her nominating petition, as is required to place her name on the ballot.
Raised in Westchester for most of her youth, Hagadus has lived in Pleasantville since 1993 and raised two sons while teaching French and Spanish in Chappaqua for 32 years before retiring.
This is not Hagadus' first foray into local politics. She won a seat on the Mount Pleasant Town Board in November 2018 in a special election, filling a one-year unexpired term as the first Democrat to serve in town in about 30 years. She lost her bid to hold on to that seat the following year and also ran unsuccessfully in 2021.
Development in Pleasantville is a major concern for Hagadus.
"My issue is we need to play the long game about development," Hagadus said. "We need to look at what effect building will have 20 to 30 years from now. The 2017 Master Plan didn't address the long term and suddenly we found ourselves with the Toll Brothers apartments on Washington Avenue, apartments on Depew Street and at Memorial Plaza. No one realized it would happen so quickly."
Hagadus said she supports a village moratorium on building and development, which is under consideration later this month.
"It should have started a long time ago," she said.
That the village relies on e-mail and the internet to reach residents is unacceptable, Hagadus explained.
"Right now (hard copy) announcements have to be put in people's hands," she said. "Many do not have access to the internet, or they don't know to look at the village website. You have to reach out to everybody so they know what's going on. And the communications are generally too wordy."
Traffic congestion in the village is another issue Hagadus views as a problem that hasn't been thoroughly addressed.
"The (upcoming) traffic change on the corner of Manville and Grant, if one car wants to turn left at that light, that can block things for miles," Hagadus said. Not enough has been implemented from the traffic study. A traffic plan should be good for the next 30 years."
Hagadus supports building a new swimming pool, even though it would raise taxes about $140 a year for the average homeowner for the life of the bond that would be issues for that purpose.
"Pleasantville is a family town and we need a family pool," she said. "Right now, there are many days in the summer when families can't use the (existing) pool and a new pool is worth modestly raising membership fees."
The difficulties enrolling children into the village-run after-school program in the fall that left many on a long waiting list is another situation Hagadus said should easily be solved.
"The school district and the village should look into hiring a private entity to provide a before and after school program. Parents would pay for it," Hagadus said. "We know that these quality programs are not cheap but they are not a permanent expense."
Hagadus suggested there were available spaces in the village that could be repurposed as activity hubs not only for after-school programs but for all ages. Space at the Methodist Church on Bedford Road is one possibility.
"The former Girl Scout building could have been one of those spaces and the sale shouldn't have happened," she said. "They should have jumped on that."
As an environmentalist, Hagadus said she appreciates the seasonal ban on fuel-powered leaf blowers and the weekend quiet hours in the summer.
"It's an important quality-of-life (issue) and I'm glad those hours have been expanded on the weekend."
Hagadus is, however, concerned about the impact a ban on fuel-powered leaf blowers and other equipment will have on landscaping costs.
She has no criticism for both Asquith and Alvarez.
"I do have a lot of respect for my opponents," Hagadus noted. "They are hard-working, good people."
Village elections for two Board of Trustee seats and village justice will be held on Tuesday, Mar. 21.