Groundbreaking Held for 16 New Townhomes in Peekskill
We are part of The Trust Project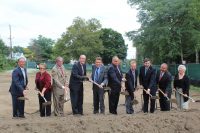 By Rick Pezzullo
Twenty years of patience and persistence will soon pay off for Peekskill and 16 future homeowners of newly built townhomes.
Last Thursday, Ginsburg Development Companies (GDC) Principal Martin Ginsburg and city officials held a groundbreaking ceremony to mark the start of construction of the Gateway Townhomes project at 700 Main Street, located across from the Kiley Youth Center and Bohlman Towers.
The project will feature 16 rowhouse townhome-style condominiums with a selection of two and three-bedroom homes ranging in size from 1,649 square feet to 1,915 square feet. Fourteen of the homes will be sold at market rate prices, starting at $275,000, and two units will be offered as affordable workforce housing with a sales price of about $240,000. Sales are expected to begin in the summer of 2018.
"We recognized the importance of this site as a gateway to the City of Peekskill and its downtown and was happy to make this neighborhood townhome part of our holistic commitment and investment in the city," Martin Ginsburg said. "We have a particular passion for the Hudson River and the rivertowns. I think Peekskill is on the cusp of becoming a special destination place."
Plans to redevelop the property, which once housed a bar called Bunch's Place and other merchants, were first presented to Peekskill officials in 1997.
"It's a wonderful project. I'm glad it's getting started," said Westchester County Legislator John Testa (R/Peekskill), who was a councilman in 1997. "It's an important project for our city. It's called gateway for a reason. It's located across from public housing for a reason."
The project comes on the heels of a nearby $64.5 million mixed-use development in Peekskill that Ginsburg broke ground on in June. That venture, called Fort Hill Apartments at the Abbey Inn, will feature 178 luxury one, two and three-bedroom rental apartments, some with views of the Hudson River, in three five-story buildings arranged in a quad around a wooded knoll. Amenities include a fitness center, club room and outdoor pool.
In addition, the development will have Abbey Inn, a 42-room hotel with a restaurant and spa in the former St. Mary's Convent building. The chapel will be used for gatherings and events.
"The city can't have a better friend than a smart developer," said Peekskill Mayor Frank Catalina. "This project is smart and it's in the right place. It represents the first new construction in this area of Main Street in over 65 years. We thank Martin Ginsburg and the Ginsburg Development Corporation for staying in Peekskill and accepting this challenging project. He is a true visionary who is changing the face of Peekskill forever."